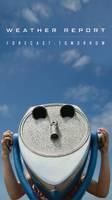 16 December 2006
If you're holiday shopping for a box set to give to a jazz fan, consider this exemplary new compilation. Starting in 1971 and lasting until 1985, WEATHER REPORT was one of the most influential electric jazz bands, setting fusion trends and then moving beyond them to set new ones. This iconic status was achieved despite going against the grain by not having an electric lead guitarist.
Forecast: Tomorrow's first disc starts not at the beginning, but before the beginning, looking at what co-leaders JOE ZAWINUL and WAYNE SHORTER were doing prior to the formation of WR. They were both in MILES DAVIS's pioneering electric band, represented here by the iconic "In a Silent Way." Shorter's fiery "Supernova," from his album of the same name, finds him blowing powerfully over the two-guitar attack of fellow Milesians JOHN MC LAUGHLIN and SONNY SHARROCK, underpinned by bassist MIROSLAV VITOUS (subsequently recruited for WR) and three drummers. Zawinul's arranging talents are spotlighted on an excerpt from the orchestral "Experience in E," one of the many tracks he concocted while a member of the CANNONBALL ADDERLEY quintet. These three choices represent the three main streams of musical thought that WR combined at first. Including one of Zawinul's soul-jazz Adderley numbers would have shown that the funkier sound that eventually surfaced in WR didn't come from out of the blue – one of the few missed opportunities to make this set even better. Another would be sampling something from Joe's 1970 LP Zawinul, not only because it brought him together with Wayne and Miroslav, but also because it's currently out of print (a sorry lapse in taste by Atlantic Records).
Then come the WR classics. Half the eponymous debut's tracks are justly included, taking what Zawinul and Shorter had done with Davis into spacier realms. (We get the full-length "Eurydice," nearly twice as long.) The follow-up, I Sing the Body Electric, is likewise represented by four tracks, sort of: the previously unreleased first take of "Directions" is used. "Unknown Soldier" shows the group's more outside facet but also Zawinul's great imagination in arranging, complete with piccolo trumpet (thank you, WILMER WISE) and English horn (ANDREW WHITE III, OTIS REDDING sideman and indefatigable transcriber of JOHN COLTRANE solos); Shorter's "Surucucu" shows the heat the quintet (by then with drummers ERIC GRAVATT and DOM UM ROMAO) generated in concert. It would have been nice to have that Tokyo concert represented by something not on I Sing, since the complete show is only available on a French import, but "Surucucu" is worthy.
Then on Sweetnighter things got funky, witness the twelve-minute "125th Street Congress," which added more percussionists and has White on electric bass supplementing Vitous's acoustic bottom. On Mysterious Traveller, which could be better-represented, electric bassist ALPHONSO JOHNSON replaced Vitous, increasing WR's groove-ability, and Zawinul began incorporating synthesizers more as they became more versatile with advanced technology; this greatly expanded the band's available timbres. Shorter's "Blackthorn Rose" is a duo with Zawinul on acoustic piano and melodica, and thus a bit anomalous, though certainly worthy of inclusion; Zawinul's gorgeous and limber "Nubian Sundance" (mistakenly credited to Shorter in the track list) is heard in a previously unreleased concert jam. One could justifiably ask, where are "Cucumber Slumber" and "Scarlet Woman"? – but the answer is, easily and inexpensively available on Mysterious Traveller, which everyone ought to own.
World-music grooves were being added to the mix already on Mysterious Traveller, but really came to the fore on Talespinnin', with the haunting "Badia" (on which Shorter is absent) included here as a Latin-tinged example. This trend continued on Black Market, the title track of which aptly represents it along with Shorter's lyrical "Three Clowns" and Zawinul's tribute to his old boss (then recently deceased), the elegiac yet appropriately earthy "Cannon Ball," which finds JACO PASTORIUS replacing Johnson and adding a sinuous, melodic third voice to the band. Pastorius is the only man besides Zawinul and Shorter represented in this set by his own compositions – a bit of an injustice to Vitous, but understandable).
With Pastorius joining full-time, the band entered a new phase and found increased popularity; the milestone album Heavy Weather even boasted a heavy radio-play track, "Birdland," evoking the bebop ferment (at the famed jazz club of the same name) with enough memorable riffs to last most bands three or four songs. "Havona," simultaneously atmospheric and rhythmically burbling, demonstrates the quality of Pastorius's songwriting; Shorter's "Palladium" commemorates a legendary New York Latin music hotspot.
Some fans complained that the following album, Mr. Gone (from the flaky saxophonist's nickname in his youth), was too slick and pushed Shorter into the shadows as Zawinul went wild with his synths. There's plenty of good music on it, including a couple of fine Shorter tunes and Pastorius's stunning "Punk Jazz" – which does give Wayne room to shine – but few will complain that the only Mr. Gone track on the CDs is Zawinul's atmospheric "The Pursuit of the Woman with the Feathered Hat."
There was plenty of room for Shorter to blow on 8:30, a two-LP set on which three sides were recorded in concert. But the only 8:30 tracks here are from the fourth side, studio ephemera that could have been skipped – especially the Zawinul/Shorter collaboration "The Orphan," which with its children's choir is this set's only annoying inclusion, whereas Shorter's "Sightseeing" at least serves to show off the polyrhythmic energy new traps drummer PETER ERSKINE brought. Since the concert DVD is from the same band lineup a few months earlier, the compilers are avoiding redundancy by omitting live 8:30 material, but they could have skipped it altogether.
By the 1980s, WR's brand of jazz fusion was considered a bit passé what with such rawer, more unsettling electric bands as ORNETTE COLEMAN's PRIME TIME, JAMES BLOOD ULMER's various aggregations, the post-punk jazz-funk of DEFUNKT, and other edgy ensembles captivating the critics. But the last audio disc in this set proves WR still had good music left in them. And for fans who only collected their '70s albums, it's a useful compendium of their remaining six years.
First up is 1980's underrated Night Passage, which brings back the solo space for all three principles (Pastorius rips off a virtuoso double-time solo on the high point "Port of Entry"), each represented by a composition; if only the rollicking rendition of DUKE ELLINGTON's "Rocking in Rhythm" were also here. Two years later came the band's second eponymously titled disc, the last with Pastorius and Erskine; Zawinul dominates. The hard-driving "Dara Factor Two" is a good choice.
Then the rhythm section duties were turned over to electric bassist VICTOR BAILEY and drummers OMAR HAKIM and JORGE ROSSY. This lineup is so disrespected that its three albums (with Rossy replaced on the last one by MINO CINELU) aren't even in print in the U.S., another reason it's good that the last quarter of the band's lifespan gets a whole disc. Zawinul dominates the composing credits and sounds more inspired now that the rhythm section is once again entirely subordinate; the title track of "Procession" is superb. Shorter's sole composition on Procession, "Plaza Real," is a pretty Madrid-inspired tone poem, and the Shorter/Zawinul improvised duet "The Well" (mistakenly credited only to Shorter in the track list, which also erroneously repeats the personnel as on "Plaza Real," though Hal Miller's notes have it right) is full of hushed beauty. The band was recording less prolifically by this point; next came Domino Theory (1984). Zawinul's funky "D-Flat Waltz," aside from the 3/4 meter, oddly sounds in retrospect a bit like contemporaneous PRINCE because of some similar synth patches and the electronic distortion of Shorter's tone. The title track is good on its own terms but shows Zawinul repeating himself creatively; Shorter's "Predator" offers perhaps the funkiest rhythm bed one of his compositions ever got. Wayne's final moment of WR glory comes on Sportin' Life's moodily mysterious "Face on the Barroom Floor." Zawinul's "Indiscretions" is catchy but slight.
The last WR album, This Is This, is skipped; Shorter quit and appears on only three tracks, so it's more a Zawinul solo album. Purists will presumably sneer at the final track, a DJ LOGIC remix of "125th Street Congress" with added rapping by Carlos (Omega) Caberini and scratching, unnecessary and probably not suggesting what WR might be up to nowadays if it were still around.
For fans who already have most of the audio offerings, the DVD is the main attraction. It's a complete concert (Offenbach, Germany, 9/28/78), believed to be the only professionally videotaped show by the quartet with Jaco and Erskine. Watching the band, as opposed to just listening, yields some interesting nuggets. For instance, there's something strange going on in the opening "Black Market"; Zawinul's ARP 2600 keyboard is reversed (as his hands move into lower ranges, the notes heard get higher). As Erskine, who wrote the notes for the DVD, explains, Zawinul programmed the ARP that way just for that song because that's how he wrote that part – a telling insight into how Joe thinks/creates. Jaco fans will be thrilled by his extended solo feature, in which he follows his "Portrait of Tracy" with a wild take on Hendrix's "Third Stone from the Sun"; bassists will have their eyes fixed on his hands to see how he spun out all those challenging lines. Some watchers might even enjoy the eventual shirtlessness of Jaco and Peter (the latter so hairy, his pelt could be mistaken for a sweater).
There are audio joys aplenty in this show as well, which in repertoire spans the group's history to that point. Wayne whistles the opening of "In a Silent Way," a magical moment of quiet mystery before switching to soprano and easing into an also-brief "Waterfall"; the peacefulness is then exploded by the uptempo energy of Jaco's "Teen Town." Some important tunes not included on the first three discs, and some items from the scantily represented Mr. Gone – "Scarlet Woman," "Young and Fine," "A Remark You Made," "River People," "Elegant People" – are heard on the DVD, Erskine gets a credit with his "Fred & Jack" (an indulgent drum solo), and Zawinul plays a solo "I Got It Bad and That Ain't Good" (Ellington) on acoustic piano that segues into a duet with Shorter on the standard "The Midnight Sun Will Never Set on You." That duet, Wayne's unaccompanied "Thanks for the Memories," and the occasionally looser tour arrangements all give the saxophonist more of the room for improvisation that some fans complain was missing on WR LPs from this point on.
There doesn't seem to be song indexing available on the DVD past the halfway point, although it may just be that I'm a technological ignoramus who's missing something. But that and my other minor quibbles are insignificant compared to all the things the compilers/producers got right in this long-overdue set.