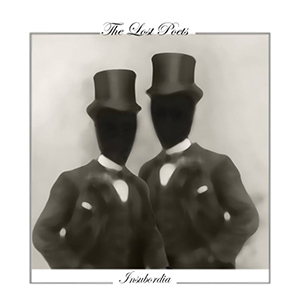 7 June 2014
The Lost Poets is a band from Stockholm, Sweden. Releasing their new EP, Insubordia, the duo is comprised of David Rosengren (vocals/guitar) and Petter Ossian Strömberg (drums/bass). The band combines a dark sludge, similar to *Soundgarden, and a calculated artfulness influenced by David Bowie, most evident in photos of the two in Residents-like fashion, dressed head to toe in tuxedos and top hats, their faces obscure by black masks. The five tracks vary in fidelity, the final tracks much more lo-fi than its predecessors, but one thing is consistent: a love of lurking darkness and shadowy melancholy.
The opener and single "Ode to K" is an indelible slice of murky grunge, but with lyrics "about a man selling his soul to the devil and how his life was before and after he died," it sounds more like something that would spring from the literary minds of Goethe or Bulgakov. It's hard to say whether the band would have been home within the early-90s Seattle grunge scene, because there's such a quirkiness to them, as if nothing they do is ever on the straight and narrow.
However, the power and force presented by them is undeniable, especially on "Die to Live" in which Rosengren seems to channel both Eddie Vedder and Black Francis. The final track, "Inside the Cage," is a short drone-y acoustic dirge and the darkest thing here, as if the entire EP is one downward spiral in an abyss of blackness. It's an EP that owes a lot to its influences, but it's simultaneously unlike anything else around it. Insubordia is definitely worth checking out, if only at first for the curiosity factor, and it makes The Lost Poets one to watch.