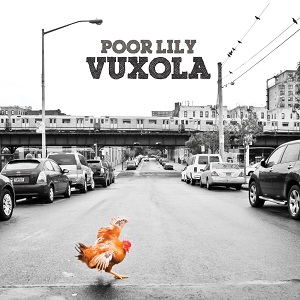 12 November 2013
A new Poor Lily album is a truly welcome treat. Their spectacular debut was a welcome alternative to the cookie-cutter punk that dominates NYC's scenester punk scene. On their sophomore effort, the Bronx-based trio outdo themselves with a raging collection of songs that recall '90s noise rock as much as SST hardcore.
First and foremost, the longest song out of 19 clocks in at two and a half minutes, so expect to be pummeled mercilessly and left to bleed on the floor when it's all over. Take the best elements of The Minutemen, The Jesus Lizard, Dead Kennedys and Fugazi and you have the vicious whirlwind that is Vuxola. Drummer Dom Biaocco is the syncopated metronome, Alan Myers via Mitch Mitchell, while Max Caphaw's guitar recalls Ian MacKaye, East Bay Ray and Greg Ginn, with one finger on Duane Denison and another on Thor Eisentrager. Meanwhile, Adam Wisnieski's bass straddles Joe Lally and Earl Liberty and his vocals simultaneously recall D. Boon, Jello Biafra and Guy Picciotto without imitation. It's everything great about punk rock without all the bummer filler.
It's nice to know that there are still punk bands out there that value musicianship and song-craft as much as their punk rock ethos. In doing so, Poor Lily have joined the ranks of bands who evolved punk into something more than three chords and a sneer. It's real music for real people, so leave your pretensions at the door. And grab me a beer.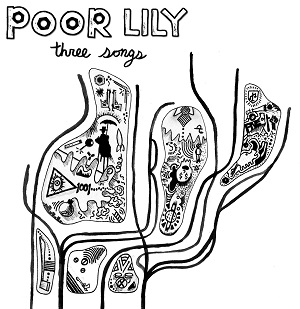 While you're at it, check out Poor Lily's EP Three Songs – the last songs they recorded with engineer/producer Jacques Cohen (RIP), a true friend and benefactor to bands along the Hudson River whose sphere of influence will be sorely missed. Includes the Poor Lily "epic" (almost three and a half minutes!) "Third Rail," a powerful In on the Kill Taker-era Fugazi-esque barn-burner of a track. Also a song about Alejandro Jodorowsky's jaw-dropping spiritual journey on film, El Topo. Yeah, it's good.