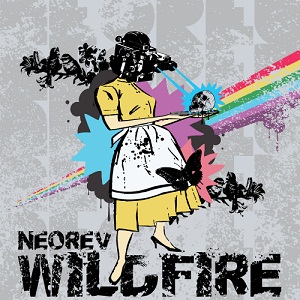 18 December 2012
The first question that comes to mind when listening to a new Neorev release is, "How in the hell does Michael Matteo keep getting better?" With his "Wildfire" EP, he not only brings us some stellar originals, but also provides enough worthy remixes and collaborations to present an album's worth of his best material to date.
The opening title track is a perfectly wicked dubstep tune inspired by the explosives on Game of Thrones. "Don't Let 'Em Get You Down," an infectious bit of neo-disco follows, incorporating elements of Kraftwerk and dance industrial to the regiment. On "No Control," Matteo truly steps outside the framework of electronic dance music to make a masterful electro-punk hybrid that is possibly his best track to date. "Throttle" recalls Superstar DJ Keoki, while "Better" comes across as the relaxing intro or middle to a jungle track without the drum and bass madness, which, by the way, is in full effect on the phenomenal remix of "Hard Style" by Noise Generator. "Prune Juice," "Knot Rot" and "Ruff, Rugged, 'N Raw," collaborations with various rappers, represent hip-hop, and the closing "Live at the Electro-Music Festival" presents a powerful near-35-minute live set that proves that Matteo can be as exciting outside of the studio as he is in it.
It's rare to find an artist that evolves so beautifully as Neorev has over the past few years. At this point, he should be producing top-ten hits for A-list pop-stars, but the music industry, as usual, is looking backward, not forward. Neorev is the future, and I like where it's headed.