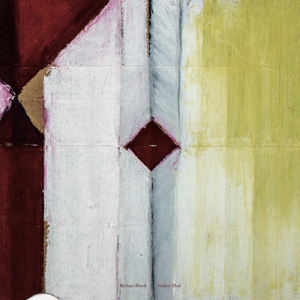 31 December 2013
San Francisco-based Beach is a busy man. Not only does he play with Melbourne, Australia's Electric Jellyfish and Shovels, but he also moonlights in Oakland's Colossal Yes and Meercaz. Yet he still has time to make solo records, and this second full-length follows 2008's Blood Courses. Golden appends four tunes from his 2011 Mountains + Valleys cassette mini-LP, tacking on seven more tracks – three of which are short instrumental interludes. This is not your standard garden-variety guitar music; Beach blends folk, alt-country, noise-rock, and post-punk in almost equal measure, never fully succumbing to one style.
On Golden's two stirring opening tracks, "The Exhilarating Rise" and "Straight Spines," his stark, fuzz-splashed guitar is aggressive, haphazard, and invigorating, as he dukes it out with the caterwauling, crashing drums of Comets on Fire/Colossal Yes's Utrillo Kushner. Their interplay recalls Mission of Burma with a Pink Flag-era Wire minimalism and a Velvet Underground/Feelies drone, peppered with Americana/Old West accents. Beach's introspective, intense vocals feel like an emotional catharsis, as if he's reaching deep into his subconscious to unveil long-repressed feelings or bottled-up secrets.
Within that framework, Beach's compositions take on subtle variations. "Dirt" has an ominous, swamp-encrusted psych-blues feel; "Static" is Sonic Youth/Sebadoh-inspired squealing indie; "There is No Edge of the World to Run To" is a melancholy, Wilco/Uncle Tupelo-ish country rock lament; "Mountains + Valleys" is eerie, desert-quiet, and spiritual; and the epic, eight-minute closer "Eve" is cacophonous, off-kilter, Lou Reed/Bob Dylan-esque folk-rock. The latter weaves together an On The Road-like parable in which Jane Austen, Henry Miller, and Jesus Christ go off in pursuit of Adam and Eve, "to learn once and for all what to believe." Like that famous Jack Kerouac novel, Golden is open to many interpretations, revealing more on each listen.