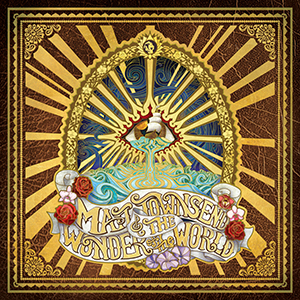 14 May 2014
With the newest folk revival well upon us, it's rare that any of it is actually good, and it's even rarer to find it along with the heart and soul of Matt Townsend and The Wonder of the World. Channeling the sounds of The Band, upon the first whirls of the organ on "Seventh Story" it's obvious the album is going to be a warm, comforting experience. The band is a well-rounded group of musicians with a core of four and eight pieces total floating in and out. With a voice as much Daniel Johnston as it is Dylan, Townsend casts a large shadow on the band's new self-titled album.
Like the Felice Brothers, Townsend seems as if he'd been doing his own thing when he found himself amidst millions of folk-wannabes, for he really is the real thing and not an imitation. Songs like "Carry On" could have easily been found on an album like Blood on the Tracks but not out of imitation but because it's just that good. Recorded in Burlington, VT, it sure sounds like it, but not in a recording studio as it was, but out in the dusty streets or in an old, forgotten bar long sent to derelict.
Many of the songs here sound like they could be sing-a-longs, but if so, it's a merely a side effect, because Townsend and the band sound as if they're singing and playing for themselves. Some of the greatest moments here are the quietest from the stripped-down "The Garden Where the Grass Forever Grows" to the intimate album album closer "Gratitude in Being". It's an honest and pure album, and Townsend is a face that will stay around for good no matter how the trends ebb and flow. Matt Townsend and the The Wonder of the World will be released on Eternal Mind Records June 23rd.