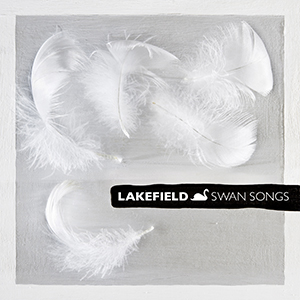 20 January 2014
Vancouver-based indie pop quartet, Lakefield, is calling it a day. After five years and only one full-length album, the band is closing the book with their final release, the aptly titled EP, Swan Songs. The EP is exactly what you would expect: somber, melancholy and designed as a final statement. Subsequently, because this is their last release, it can be quite depressing or difficult to listen to. It's evident immediately that this is a band tired, disillusioned, and giving up, but they still manage to channel all of this into one final last gasp worth listening to.
It may seem overly melodramatic to put together something like this, but it's a truly fitting end, yet nonetheless a sad one for a band that should have gotten more respect in their time. As hard as it is to listen to a band's last work, there are still moments of great beauty and inspiration in this EP. The lead-off single "Good Guy" is the most immediate example of this, lingering softly for a minute before gradually growing intensity, only to quietly fade out as it began. One wonders if this sole song can be seen as a metaphor for the band's own existence.
The rest of the EP is more of the same wistfully enjoyable piano-led pop. Even with distorted guitars and crescendos, the band never strays to far from their gently lingering strengths, and why should they? It's a formula that works, or worked, fantastically for them. The greatest song here is the final song here, and the final song of their career, "Your Conviction Is Sweet," with the moving and telling line, "Don't give up before the end of this song." Just getting to know this band myself, it's hard to already have to say goodbye, but it's great that at least this EP and their album exist for fans. Swan Songs will be released February 14th.