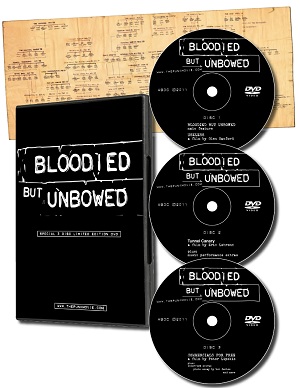 11 December 2011
Director Susanne Tabata says she's been working on her documentary Bloodied But Unbowed for over three years but from the look of it, Vancouver's first punk scene has been ready for its close-up for the last thirty years.
The film, released on DVD December 1st 2011, is made up of both reams of fascinating interview footage that Tabata has been shooting since 2008 and a treasure trove of period archival footage that come from early music videos, cable access shows, Hollywood feature films, amateur film enthusiasts, art students and the like. It's difficult to imagine that any other North American late seventies/early eighties punk scene would have anywhere near this quantity (and quality!) of footage.
Of course, hundreds of hours of old footage and new interviews does not guarantee a watchable film. In fact, such an over-abundance of source material risks turning the final product into an indulgent, interminable saga, meant only for devotees (like yours truly). Instead, Tabata, in respect for the brevity-fixated genre she's documenting, has transformed the reams and reams of footage into a tight 75 minute feature (like the theatrical cut, the DVD is twenty minutes longer then the TV version). Tabata and her crew of trusty editors, Jon West, John Adams, Troy Weinreich and Colin Steel cut through the vast swaths of footage with razors till they have found the essence of this time and place.
The exclusive features' on the three DVD set of the film, alongside the literally HOURS of footage used as 'webisodes', begin to hint at just how much raw material Tabata had to wrestle with. First we get Glen Sanford's Useless a short documentary on Gerry Hannah who played bass for The Subhumans and played bombs for domestic terrorists, The Squamish Five. It's a riveting piece, which only whets the appetite for a full-length documentary on the subject.
As well you get a short documentary on art-noise pioneers Tunnel Canary. Though the band do not enter into the feature film, it's a fascinating aside, especially when filmmaker Eric Lohrenz brings in footage of one of the band's street performances from 1978 [!] doing their damnedest to épater le bourgeois.
For further enrichment, you get Commercials For Free an art film by Peter Lipkis that turns into a concert film when it dives into the Indian Centre ( "Yes, that is what is was called " says Tabata), one of the legendary venues of the scene.
Then there's four extended interviews, twenty (yes, TWENTY!) live performance and music videos from bands like D.O.A., The Young Canadians, The Subhumans, The Pointed Sticks, The Modernettes, The Payolas and many more. Lastly, you get a photo essay from Bev Davies. If that sounds like a typical piece of DVD filler, then let me explain further. The photo essay, in fact, consists of a one-hour extended interview between Tabata and the famed Vancouver photographer while a slew of her carefully-composed b & w photos saunter across the screen. It's a calm moment amidst the maelstrom and very worthy of inclusion.
So whether the film made it out to a theater near you or (more likely) not, you now have the option to order the DVD from Skull Skates. If you just want the bare-bones, there's a single DVD, which still has the twenty live performances/ videos (including another TEN tracks not on the deluxe version) available for $9.99. If you want to really get a bead on this incredible time in music history, then the full three DVD set, a mere $29.99 (with fold-out punk history tree), is the only thing that's gonna do ya, at least until the super-ultra-mega deluxe mind-chip version comes out thirty years from now.