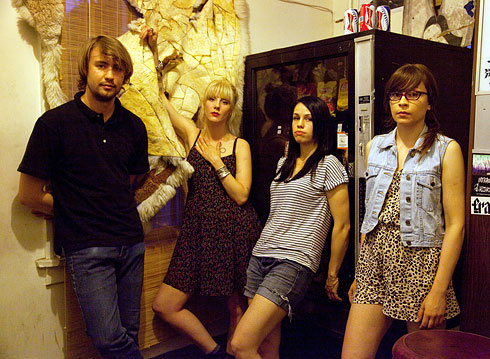 30 August 2012
The genetic makeup comprising most Americans tends to assume that everything from Canada is stupid. It's a weird misunderstanding, but over exposure to Canadian jokes and stereotypes via everywhere will do this. And we've all poked fun. Admit it. Even people with little to no susceptibility towards judgments eventually bash our less psychotic Northern neighbors—in one way or another—for the same measly list of reasons that never seem to change: their uber friendly attitudes, lack of violence, their disregard for locking doors and their universal healthcare system. These are the traits that the U.S. finds funny because we're ignorant assholes with low self-esteem.
Mish Way, lead singer of Canadian Punk band, White Lung, and avid music journalist for Vice Magazine, Cultist Zine, hearty magazine, and Noisey, notices these ongoing jabs as well, especially when pertaining to Canada's reputation as a musical write off.
"With the Canadian music scene," Mish explains over the phone from her home in Vancouver, British Columbia, "—which is now getting verification—people in America would understand it as Arcade Fire, Feist; all these bands that are popular just because they're these very digestible and acceptable bands. But there's more bands that are breaking through, which is good, because there's so much talent here and people don't really know it."
In a 2012 article referenced by the singer, Canadian Pop-culture magazine, Fast Forward (whom Mish also contributes to), published a piece entitled, Canadian Music is Boring, that addressed the niche topic of non-mainstream bands who go unrecognized by the CRTC (Canadian Radio-television and Telecommunications Commission), and are repeatedly snubbed from Canada's Polaris Awards: a yearly ceremony recognizing the North's most talented musical acts. Writers Josiah Hughes and Ted Leo dissect the awarding of marginally-successful-to-highly-successful music ensembles as a strong indicator of Canada's ongoing recognition of "safe, radio-friendly bands" over those unexposed to a broader audience. But as Mish points out, the amount of musical talent emerging from her hometown of Vancouver, and other cities like Toronto, is happening all over Canada.
"I love playing in Toronto, and whenever we play there, the people are really receptive. But we're so far away from each other. I have bands out there I love. I think there are more Dance and Pop and Electro going on, but then there's also bands like TEENANGER that are great. In Vancouver there's a lot of great music, but there's always new music everywhere."
Landing gigs as a bassist and guitarist in a roster of "terrible punk bands" prior to White Lung, Mish and her past career as a non-vocalist/musician was challenged when her role as a former guitarist was substituted for one in the spotlight.
"When we originally started the band," Mish explains. "I played guitar, and then our old guitar player was playing and she was so much better than I was. I was like, 'Alright, forget it. I don't even want to play rhythm guitar.' It just worked out. Sometimes you don't get to hide behind anything, but it forfeits you to put yourself out there. I don't have to worry about messing up a note or playing something wrong, it can just be this cathartic experience."
Forming in their hometown of Vancouver, BC, in 2006, Mish and the rest of White Lung--bassist Grady Mackintosh, drummer Anne-Marie Vassilou and guitarist Kenny McCorkell [who joined WL in 2009]--possessed a dissimilar sound from the overly-spun, CRTC-loving bands that terrorized mainstream radio. And along with fellow BC Hardcore bands like Nu Sensae, Modern Creatures, and Twin Crystals, White Lung were active parts of The Emergency Room scene in Vancouver whose underground art space spawned the band and served as a performance venue, art gallery and practice space [before closing down in 2009 after several break-ins were reported], to the local artists and musicians that propagated the coastal region's thriving DIY scene.
Spewing jolts of (slightly) melodic Hardcore beneath throaty rasps of feminist musings, the sound of White Lung was largely influenced by early 90's bands like L7, Bikini Kill, and Hole, whose lead singer, Courtney Love, held the most impact on Mish as both a musician and feminist.
"I remember when I was a teenager and heard Pretty On the Inside," reflects Mish, "I realized you don't have to sing perfectly, you can just do it and it sounds amazing. There's such an energy and body to it."
On their 2011 debut LP, It's the Evil, off Canadian label, Deranged Records, the lyrical intellect, written by the 27-year-old front woman, proved a perfect addition to the stingy vibrancy of their Hardcore aesthetic. Tracks like Atlanta, with its rhythmically savage blend of forget-me-not bass lines and tumultuous drum blasts, and Psychoholic, with it's fearless vocal surges into discordant guitar wails, gave It's the Evil an onslaught of positive reviews from both Canadian and US music magazines, earning the band a nomination for best Punk/Hardcore band of the year at the 2011 Canadian Music Indie Week Awards. Despite the award not going to the band that night, it prompted the group to embark on a tour throughout Canada and the states in promotion of the new album.
"It's like this really weird family relationship," says Mish when asked about her feelings of living life on the road. "You can't escape them, but that's the way it is. But I like touring. It has its positives and its negatives, but what's not to love? You're playing music every single night, and you're only responsibility is to get to the show. It's great."
For the past year, White Lung's consistent touring schedule hasn't prevented Mish from her job as a writer; often maintaining her journalistic duties via McDonald's wi-fi and the keyboard on her iphone. Though she admits it's still "weird" to write, play, and critique music as her job, her involvement over the years has given her an in-depth look into the intricacies of the music biz from both aspects; lucky to have made a living off of something she loves to do. "My whole thing was, 'Music isn't going to last; it's something you do for fun, and something I never expect to make money from.' I always wanted to pursue writing as a career, so I'm lucky I can do both."
This past March, after months of touring, writing, and practicing, the White Lung crew released their second, full-length LP, Sorry, recorded by Post-Nothing engineer, Jesse Gander, who prior to White Lung had worked with the Vancouver Pop-Punk duo, Japandroids, on their celebrated second album, Celebration Rock. With 10 tracks that briskly fall below the 20-minute mark, Sorry is the sweetest tidbit from the young Lungs thus far. With sturdy, harmonic melodies that decompress the splatters of straight-forward Punk, the Pop-Punk balancing act consistently keep tracks like Glue, Bag, and Take the Mirror intact, revealing White Lung's direction towards more melody-friendly tunes than ones heard on their precursor 7-inches: Local Garbage (2007), Magazine (2008), and Atlanta (2010).
"We all wanted to make a better record and write better songs," Mish confesses a she lights a cigarette. "I wanted to sing more to the screaming, and I wanted to write certain melodies. I wanted the challenge of writing more poppy hooks, because who doesn't like a catchy song?"
And like any progressive song writer, she, too, looks back on her past (as does the rest of the band) with a critical eye, but it's only helped them in their growth as writers and musicians.
"When I look back to the first record, there's songs I can't even listen to because I'm like, 'Oh, god, that was a bad song.' But that's just because we learn to write better, and I'm sure when we write our next record, I'll think a bunch of songs are really bad [off Sorry]. It's natural to want to keep growing. "
With the 2012 Polaris Awards already behind us, it isn't too surprising that the recycled list of nominees was noticeably devoid of Canadian bands and singers who lacked the notoriety of the ones selected. But with the jury of execs from corporate power houses like Warner Brothers and Live Nation in charge of the nomination process, it kind of makes sense that Japandroids, Drake, and (obviously) Feist, found their spot on the ballad list where White Lung (and other Canadian bands more deserving) should have been [though—to their credit—they did nominate Fucked Up for a second time, as well as Canadian artist and musician, Grimes). Yet, the blatant disregard of underground music by the mainstream is nothing but a tired concept, and White Lung could really care less about the CTRC's acceptance. Instead, their interests lie in the promotion of the new album on their upcoming, European tour in late September, where maniacal performances won't disprove.
"Performing for me is an outlet, as it is for most people that do that. It feels good to yell. You can't just walk up to people on the street and start screaming at them in real life, so it's nice to have a place I can do that and not have it frowned upon. It's welcomed."