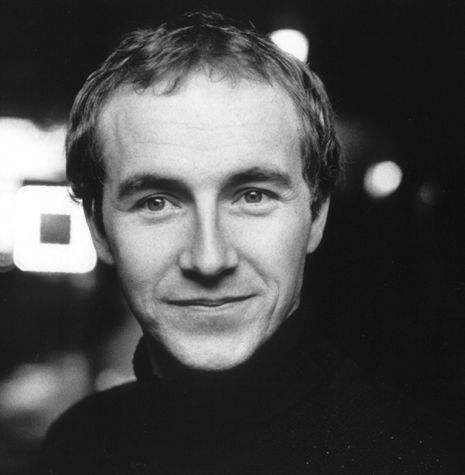 12 May 2006
By now, you've likely heard of the strange and sad death of GO-BETWEENS favorite GRANT MCLENNAN, who died in his sleep this past weekend, Saturday, May 6, aged only 48 years, in his home in Brisbane, Australia. Not even The New York Times was able to list a cause of death. All that is widely known at present is that the singer/songwriter was getting ready for a party he was throwing that night, and felt ill, so he decided to lay down for a while. He was discovered dead a few hours later.
It is, of course, just human nature to want to know the actual cause of death, especially when it happens to someone this side of 60. We are all too aware of our own mortality, and are ever curious as to whether a person's behavior or actions in some way contributed to his demise (a curiosity that just seems to double if the deceased was a performing musician, given the 'rock 'n' roll lifestyle' and rock fans' obsession with bad behavior and alcohol and substance abuse), or if it was just plain old rotten luck—naturally, we want to know more. That's a given. But the result is genuine mourning no matter what is to eventually be learned: the soft-spoken, affable McLennan was one of the more universally-liked people in pop.
And not just for his 28-year record of composing rather poetic and lovely pop tunes, either, although that is what he leaves for posterity and that will be enough to ensure his immortality among the cognoscenti and collectors of that too-rare form. As someone who met Grant about two dozen times and interviewed him a few times, I always found him to be thoughtful, optimistic, thoroughly pleased that you liked his work, and a little bit more humble than one would expect from someone who had toured the globe and released over a dozen superb albums.
When I think of McLennan, I think of the solo show I saw him do a decade ago, when, out of a tiny handful of old Go-Betweens songs he threw in with his new solo songs, he elected to include one by his band/soulmate ROBERT FORSTER, the elegiac "Clouds" instead of another one of his own. It was almost like a cover, since I never heard him sing that song before or since, and having seen Forster sing it many times, I remember thinking how rare that was. When a band fronted by two singer-songwriters breaks up, as the Go-Be's did for a decade, how often does one do a song by the other in his or her solo sets, unless the other has died? (If you know of another example, feel free to chime in in the comments section below.)
And yet it felt so natural for this guy. He really was an appreciative person, and whenever I would try to pin him down as being in any way bitter or unhappy with his old band's underserved lack of mass success, he would politely decline my invitation, and instead say he felt lucky to have made so much music. He would remind me that he hadn't any real intention in the first place to be a professional recording and touring musician, and that it was an enlightened idea by his college friend Forster that led him to give it a go. (I used to reply that the same was true of this magazine, that it had been my best friend's idea and I hadn't ever thought about being a writer; this we had in common—I could relate at the whole "lucky charms" aspect.)
This was a true as ever the last time (as it turned out) I saw them, here in Brooklyn at Southpaw on June 11 of last year. He and Forster never looked happier, in fact, by this protracted second life, so clearly in love with each other's songs and playing together and being together. Said I in my review, "The juxtaposition and continual affectionate tug of war between Forster's philosophical and whimsically realist love poetry and spry, more monotone singing and McLennan's unabashed, more smiling romanticism and lush melodies is as readily appreciable in 2005 as it was in their former heyday." And I meant it. They really had it going, still, for a band that started during the JIMMY CARTER administration.
The only time I ever saw him unhappy or even really irritated (granted, I only met him at gigs and at interviews, a skewered sample for sure, but then again, I met him over 23 years going back to CBGB and Danceteria gigs, and he never changed in that regard!) was when my friend ERIC SAUL was taking pictures of him while I interviewed him at the Pink Pony on Ludlow Street one day. He barked at Eric, objecting to being photographed while chewing. (Very odd, but even then, he soon apologized for objecting—polite to a fault.)
I'm truly sorry the man is dead. Not only for a mild acquaintance, but for the consistency of his work for so long, right up to the reunited group's final, truly wonderful LP, Ocean's Apart. The indelible songs will last, that's for sure. He wrote and sang the group's loveliest singles, like "Bachelor Kisses," "Bye Bye Pride," "Right Here," "Streets of Your Town," "Cattle and Cain," and "Love Goes On," along with solo songs to die for, like "Lighting Fires" and "Simone And Perry."
In fact, let's all remember him by "Love Goes On." Though the tune is about romance, it can just as easily refer to the love McLennan showed for the perfect pop song, dripping in poetry and intelligence and melody and splendor with just the right hint of melancholy to give his songs depth-and thus the love he had for us, by not writing the pop piffle that everyone else does. It certainly sums up his undying spirit, and I remember telling him that backstage at the old Knitting Factory when they were playing acoustic in 1989, touring for their accompanying (zenith) LP, 16 Lovers Lane. It's still true today. And it is perhaps the greatest gift he gave us, a song with a romantic and optimistic vision of life, despite its ups and downs and endless changes—it's a gift which we can't afford to lose:
There's a cat in my alleyway
Dreaming of birds that are blue
Sometimes girl when I'm lonely
This is how I think about you
There are times that I want you
I want you so much I could bust
I know a thing about lovers
Lovers lie down in a trust
Love goes on anyway!
Love goes on anyway!
The people next door got their problems
They got things they can't name
I know a thing about lovers
Lovers don't feel any shame
Late at night with the lights down low
The candle burns to the end
I know a thing about darkness
Darkness ain't my friend
Love goes on anyway!
Love goes on anyway!
I'm gonna make you happy
I'm gonna spin you round
I'm gonna cut your strings
I put my foot flat down on the floor
I took it as far as I could
I took it down there to Sheridan Street
by the dark wood
Late at night when I want you
I lock you in my room
I know a thing about darkness
I know a thing about lovers
I know a thing about lovers
Lovers want the moon
Love goes on anyway!
Love goes on anyway!
Well, I know a thing about such a smart and pretty pop song, one of so many he gave us, and the kind people who make them. They never let us forget them. If you want to remember one of the unsung greats, buy this LP, plus Tallulah and a copy of his solo LP Horsebreaker Star to boot. You'll see a quiet and modest genius at work. And if you want to see him on stage, you might want to get the band's January DVD release, That Striped Sunlight Sound. Who knew that this was to be his swan song? [As Forster and McLennan were reportedly in the middle of recording a new Go-Betweens album, there may be a posthumous swan song in the works. -ed.]
Along with all your other fans, and no doubt your friends, I'd like to say "Thank you Grant," for the hours of great pleasure you gave us, and, personally, for the simple joy of taking up some of your time now and then. And love goes on anyway.
[Photo courtesy of BLEDDYN BUTCHER]