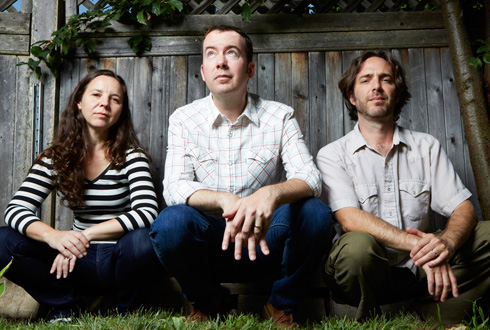 31 March 2014
The Big Takeover is very pleased and proud to present the exclusive world premiere of Wild Sometimes the first album in 15 years by the brilliant '90s indie-rock band Sleepyhead! Have a listen and scroll down for a brief history of this great band.
Sleepyhead was formed in a basement room at NYU's Brittany Dorm in the fall of 1989 by drummer/vocalist Rachael McNally, bassist Mike Galinsky and guitarist/vocalist Chris O'Rourke.
The band released their first 7″ single, the Kramer-produced "Play," in 1991 on Picture Book Artifact. Four full-length albums followed, on three different independent record labels. Punk Rock City USA was released by Slumberland Records in 1993, followed by Starduster (Homestead 1994), Communist Love Songs (Homestead 1996), and The Brighter Shore (Sealed Fate 1999).
They toured the United States and Europe throughout the nineties, sharing the stage with such legendary bands as Polvo, Half Japanese, Yo La Tengo, The Grifters, The Dambuilders, Nation of Ulysses, Helium, Royal Trux, Antietam, Luna, Versus, The Magnetic Fields, and Dungbeetle.
Around the time their fourth album was released in 1999, Rachael and Chris got married, and Mike Galinsky had moved on to a successful career in filmmaking. Dan Cuddy (The Special Pillow, ex-Hypnolovewheel) joined Chris and Rachael on bass. With Dan on bass, Sleepyhead did some touring for The Brighter Shore and began writing new songs.
Rachael and Chris moved from New York to Boston in 2002 after having their first child. (They had another kid in 2005.) By this time, they had begun recording a new album with producer Mike Deming (Pernice Brothers, Apples in Stereo, Beachwood Sparks, Lilys), at Deming's famed Studio 45 in Hartford, and subsequently Enfield, CT. In 2004, bassist/vocalist/keyboardist Derek van Beever joined the band and they've been playing shows in Boston, Providence, and New York ever since. In April 2013, this new lineup of Sleepyhead went into Q Division Studios in Somerville, MA to record the last three songs for their long-time-coming fifth album, Wild Sometimes, to be released on renowned Chicago indie Carrot Top Records in April 2014.