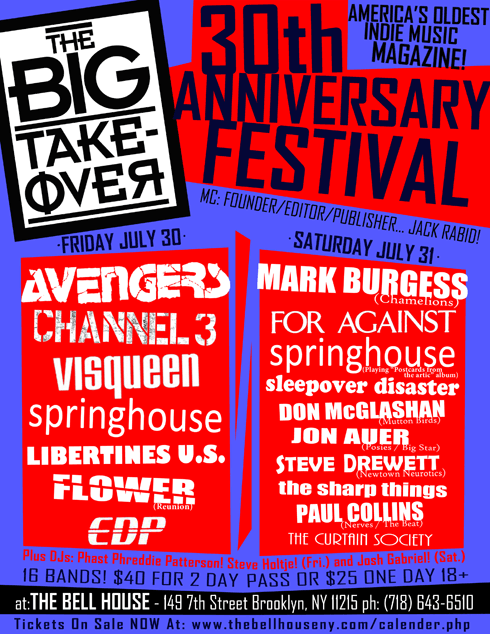 3 July 2010
16 BANDS, 17 SETS! ONLY $40 FOR A TWO DAY PASS! ($25 for one night) Celebrating 30 years of American's oldest indie-produced music magazine. MC for the weekend: founder/editor/publisher, me!
Special Event DJs: Phast Phreddie Patterson (bar), Steve Holtje (club, Friday), Josh Gabriel (club, Saturday)
The Bell House: 149 7th Street, Brooklyn, NY, 11215, Park Slope/Gowanus neighborhood, telephone 718-643-6510; venue is comfortably air conditioned
Tickets (yes! get 'em now!) on sale! (Hurry, this may well sell out! note the event is 18+)
Dozens of our staffers and contributors past and present will be asked to take a well-deserved bow each night!
COME JOIN US TO MARK THE OCCASION AND SEE:
Friday July 30 (Doors 6pm):
The Avengers (reformed San Francisco '70s punk legends, with two original members, singer Penelope Houston and guitar Greg Ingraham)
Channel 3 (early '80s L.A. punks!)
Visqueen (female-led Seattle post-punk rockers' first LP in 5 years)
Springhouse (my own late '80s/early '90s dreampop band, doing normal set)
Libertines U.S. (reformed Cincinnati's '80s greats first ever ny show)
Flower (New York postpunk band's reunion gig, first show in 16 years! Later split into two bands, Versus and French !)
EDP (New York's hard-hitting, Jam-like, mod revival band)
Saturday July 31 (doors 4pm)
Mark Burgess (England's Chameleons star) acoustic and full band!
For Against (Lincoln, NE post-punk legends' first East Coast show in 15 years)
Springhouse (playing 1993 second LP Postcards From the Arctic start to finish for the first time ever; first shows with original lineup in 8 years)
The Sleepover Disaster (Fresno's shoegaze wonders' first ever east coast appearances)
Don Mcglashan (New Zealand's ex-*Mutton Birds* leader in his only U.S. appearance, part solo and part full band!)
Jon Auer (Seattle's Posies star and 17-year Big Star member)
Steve Drewett of The (Newtown) Neurotics (first ever U.S. gig of any kind for the English original 1977-1988 punk rock era singer-songwriter extraordinaire, part solo, and part backing band!)
The Sharp Things (New York's orchestral poppers!)
Paul Collins (of The Nerves of "Hanging on the Telephone" fame pre-Blondie's cover, and of Paul Collins' Beat)
The Curtain Society (veteran Boston shoegazers, who recently backed Burgess last year for his own sets)
NOTES:
1) Festival Food/Bar: No exits will be final, plus they are going to have a little portable food court coming in to keep people in a bit of food, and people will be able to hang out in the cool bar attached to the club or the sidewalk if these are nice nights, and eat the food cart stuff, or there are restaurants within a short walk. The air conditioning works splendidly at Bell House, too!
2. Area Accommodations : The event is in the Park Slope / Gowanus Canal section of Brooklyn, five miles from Manhattan, and only 20 minutes by subway from Manhattan. Click here for a list of hotels in the area (note these are not recommendations).
3) Help the bands! Since there's no way we can pay each of the 12 non-local bands the entirety of their large travel expenses, in order to help some of them recoup, our friend Wayne Guskind suggested we take donations for them in addition to the ticket price. He even started it off by donating $100. The fund is now over $500 and can use much, much more to help the bands!
If anyone else wants to do that, can do that via paypal at jrabid@bigtakeover.com (specify "personal payment" if you can, to help avoid the 3% tack on fees paypal does), or send a check made out to big takeover at 356 4th st. brooklyn, ny 11215. if you'd rather do visa or mastercard, email me and i can walk you through it, as that's a little trickier.
We will list the donors at the event (including anyone who wants to be listed as "anonymous" or donate in another person's name), but of course, no one has to donate.