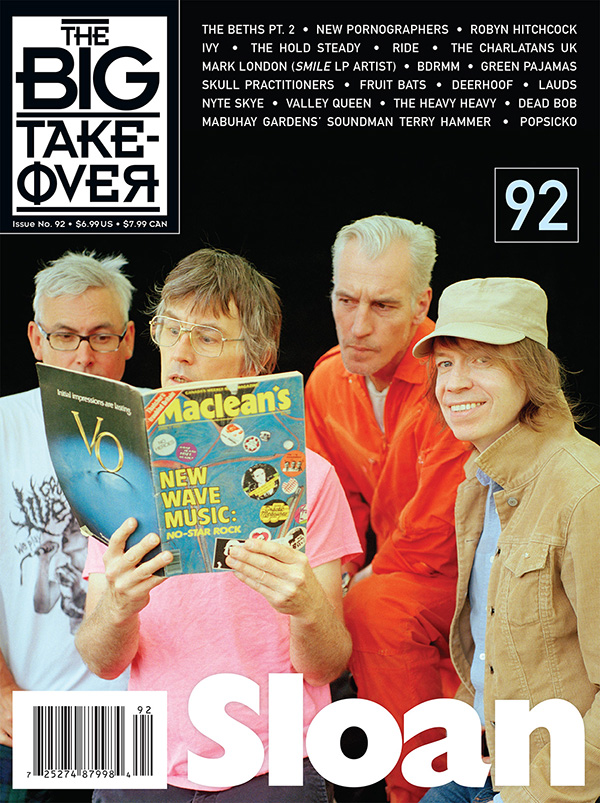 6 May 2023
Once again the big news is that Big Takeover issue #92 Spring 2023 is nearly completed from sessions in Brooklyn, NY and Oakland, CA this month! The issue stars revered Canadian stars Sloan on the cover, and features fabulous history interviews with 45-year English star Robyn Hitchcock, power-pop legends New Pornographers, Tim Burgess from The Charlatans U.K., original shoegaze greats Ride, two lookbacks from grieving New Yorkers Ivy, and '90s California post-punk staples Popsicko, part two of last issue's cover interview with Elizabeth Stokes of The Beths, popular vets The Hold Steady, and an interview with Brian Wilson Smile LP designer (etc.) Mark London including some nice examples of his work.
Plus there are shorter chats with John Wright of Nomeansno and Dead Bob, bdrmm , Green Pajamas, Skull Practitioners, Fruit Bats, Deerhoof, Lauds, Nyte Skye , Valley Queen, The Heavy Heavy, and Terry Hammer , the soundman from San Francisco's hallowed Mabuhuy Gardens club, and more! A full description of its contents is just below.
The magazine will begin shipping any week now, so you should see it quite soon! Remember, we only come out twice a year, every Spring and Fall, so you don't want to miss one of our jam-packed 172-page issues!
(IMPORTANT!!: If you are a subscriber and you need to update your address, please tell us right away. The post office almost never forwards our issues even if you have a forwarding order in place. Quickly, send updates to me at jrabid@bigtakeover.com)
REMEMBER, since this upcoming issue #92 will soon be shipped to subscribers and those who pre-order it by itself, but will sometimes be unavailable in the usual stores that used to carry us that closed or grew limited for social distancing, it is imperative if you want a copy of the magazine that you order it now, so that we can put in the right number of copies for our order with the printer! It is likely we will sell out of our own office stock thereafter, and once they're gone, they're gone. And of course, it can't be impulse-bought like previous issues when you're out and about. Don't delay!
So if you want the issue, you must order right away before the printer finishes its work, so that we can ship it directly from there in the appropriate number of copies!
This you can do by ordering just the one issue at preorder. (You can also buy any or all of our 91 back issues there that have been released over the past 42 1/2 years!), or subscribe if you've been meaning to, or renew your subscription if it has run out!!!! (Feel free to email me at jrabid@bigtakeover.com if you fear your subscription has run out!)
And just a reminder that there's still time for the perfect Father's Day, other holidays, birthday, graduation, or whatever type of gift: Big Takeover magazine subscriptions and back issues! Give the gift of music appreciation and good reading to those you love! (And maybe to yourself while you're at it.)
Speaking of which, for more super gifts, here's a reminder about our t-shirts, CDs, and our other fun stuff like Big Takeover beer cozies and signed posters that might be just the thing!
That's right, Big Takeover issues, subscriptions, back issues, t-shirts in three colors, black, white, and burgundy red in thirteen sizes (including our children's sizes, 2T, 3T, 4T, and 6MO, 12MO, and 18MO baby onesies!!!!! The coolest gift ever for the kids!), and our accessories (BT beer cozies for only $5 and 12 × 18 color BT Anniversary Festival Posters for $4, which I will sign if you want me to!), as well as our related CDs (including the limited edition Springhouse CD album, From Now to OK), also make the perfect birthday, or holiday) gifts! Especially in this time when we are all trying to economize.
This means our t-shirts still come in three colors (black, white, and burgundy red) and are only $16 for men, $15 for women, and $12 for children's shirts and baby onesies, even including postage.
Also, all but two of our back issues are still available (if your friends like a specific band we've featured) and there's always the mega-deluxe gift, the complete set of all of our 91 issues to date, including the two that are out of print! Check theback issues page and you will see that offer.
And we are also offering used, good-quality CD copies of the three out-of-print SPRINGHOUSE CDs from 1991-1993 as well as sealed, limited edition art-package copies of Springhouse's 2008 third LP From Now to OK (See why it got an 86/100 in Paste!), as well as CDs by EVEN WORSE, LAST BURNING EMBERS, DOUG GILLARD, NON-LINEAR THINKERS and EDP!
If you want to subscribe or renew or give the gift that keeps on giving, just go to our subscribe and feel free to indicate which issue you'd like to start with (or have your friends start with); issue #91 (The Beths cover), the upcoming issue #92 (Sloan cover), or the Fall 2024 issue #92 (Ed Sheeran cover – Ha! Just kidding. Just wanted to make sure you were still reading). It's only $24 for four issues (save 23% off the newsstand price including average sales tax), or $36 for overseas, or $32 for Canada. Or, for those in the U.S., you can send us a check made out to "Big Takeover" for $24 to the following address:
The Big Takeover
356 4th St. 2nd fl.
Brooklyn, NY 11215

Or if you want to order just issue #92, you can send us a check (or make a PayPal payment to jrabid@bigtakeover.com) for $10.50 (including postage) to that address, or order it at the Big Takeover website.
Here, again, is what's in issue #92!!!!:
Interviews: Sloan (the cover) * The Beths pt. 2 * New Pornographers * Robyn Hitchcock * Ivy * The Hold Steady * Ride * The Charlatans UK * Mark London (Brian Wilson's Smile LP Artist) * Popsicko * bdrmm * Green Pajamas * Skull Practitioners * Fruit Bats * Deerhoof * Lauds * Nyte Skye * Valley Queen * The Heavy Heavy * Dead Bob * Mabuhay Gardens' Soundman Terry Hammer
Editorials: Rabid: "The Kids Really Are Alright—My Son the Unlikely Rock Star (For Two Days)" * Kelson: "The Time A Record Clerk Saved My Life—An ode to Peter, Terry, and Brad" * Lauden: "Having Fun Or Dying Young? Paying Tribute To A Long Lost Friend"
Live: Alvvays * The Beths * Black Flag, Dickies, T.S.O.L. * Channel 3 * The Chills * Eyelids * Patterson Hood * Lemonheads, Juliana Hatfield * Real Estate, Cut Worms * Ride, Charlatans U.K. * David Steinhart * Don't Lie to Me: Big Star Tribute Show * The Music of Paul McCartney (Patti Smith, Graham Nash, Peter Asher, Denny Laine, Lyle Lovett, Christopher Cross, Bettye LaVette, etc.)
CD/Vinyl/Cassette/Digital Reviews: A Cast of Thousands * A Certain Ratio * Acid King * Adolescents * Album Leaf * Anderson Council/Midnight Callers * APB * Ashenden Papers * Autodidact Dreams * Albert Ayler * Baby Hot-Line * Bad Ends/No Ones/Salt Collective * Burt Bacharach & Elvis Costello * Bardo Pond * Barracudas * Beach House * Beatles * bdrmm * Belle & Sebastian * Bettie Serveert * Gina Birch * Bird Streets * Big Joanie * Martin Bisi * Blackbirds FC * Black Nite Crash * Black Watch * Blood Moon Wedding * Bluebells * Blusterfields * Boo Radleys * Boygenius * Brainiac * Bria * Brian Jonestown Massacre * Chris Brokaw * John Cale * Peter Case * Charming Disaster * Cheap Trick * Cheater Slicks * Wild Billy Childish & CTMF * Alex Chilton * Chime School * The Church/Steve Kilbey * The CIA * Circle Jerks * Shana Cleveland * Cliff & Ivy * Cluster * Jenny Conlee * Gaz Coombes * Lloyd Cole * Marshall Crenshaw * Crisis Actor * David Crosby & the Lighthouse Band * Damned * Darts * Dennis Davison * Death Cab For Cutie * Debacle * Depeche Mode * Desario * Indigo De Souza * Dez Dare * DIIV * D.O.A./ Joey Keithley * Donovan's Brain * Gord Downie & Bob Rock * Bob Dylan * Earthly Frames * Eels * Eluvium * E.R.I.E. * Ex Norwegian * Eyelids * FACS * The Faction * Jad Fair & Samuel Locke Ward * Fawns of Love * Flash * Flying Burrito Brothers * Flyying Colours * Robert Forster * Josephine Foster * Fotoform * Four Star Riot * Freaks * Fruit Bats * Fucked Up * Glitter Wizard * Goldfeather * Grateful Dead/Bob Weir * Green Pajamas * Grey Factor * Guided By Voices * Hammock * Juliana Hatfield & Emma Swift * Hawkwind * Heartbeeps * Richard Hell & the Voidoids * Joe Henry * Hold Steady * Greg Hoy * Ivy * David J * Jphono1 * Elton John * Janis Joplin & Jorma Kaukonen * Jupe Jupe * Keyside * Carole King * King Tuff * Kingsnakes * Krayolas * Kraut * Laughing Chimes * Furry Lewis * Live Skull * Bruce Licher * Linda Lindas * Long Ryders /Stephen Mccarthy & Carla Olson * M83 * Taj Mahal * March Violets * Miesha & the Spanks * Carina Messier * Metal Marty * Mighty Lemon Drops * Miniaturized * Modernettes * Mononegatives * Kevin Morby * Moss Icon * Most Powerful Telescope In the Universe * Motörhead * Movies With Heroes * Mudhoney * Naked Raygun * National Honor Society * Nervebreakers * Neutral Milk Hotel * New Pornographers * Nils * 1984 Draft * Nirvana (U.K.) * No Alternative * Billy Nomates * Salim Nourallah * Nyte Skye * Sean O'Brien & The Dirty Hands * Phil Ochs * OC Rippers * Off! * Pains of Being Pure at Heart * Pam Risourié * The Panik * Paramore * Charlie Parker * Nicholas Payton/Buster Williams * Peel Dream Magazine * Pere Ubu * Pernice Brothers * Pia Fraus * Pigface * Pink Floyd * Plain Speak * Iggy Pop * Poster Children * Kid Congo Powers/Wolfmanhattan Project/Paul B. Cutler * Primitives * Public Image Limited * Pull of Autumn * Purple Ivy Shadows * Quasi * Raveonettes * Reds, Pinks & Purples * Eric Reed * Residents * Revelons * Romeo Void * Frankie Rose * Ruts * Samiam * Kendrick Scott * Screaming Females * SC.U.M. * Second Layer * Philip Selway * 7 Seconds * Ron Sexsmith * Jim Shepard * Sir Douglas Quintet * Nancy Sinatra & Lee Hazelwood * Slackers * Slip~Ons/Brock Pytel * Soft Science * Sparks * Spirits of Leo * Star Collector * Strokes * Subhumans * Successful Failures * Tangerine Dream * Temples * Tennis * Tetsuians * Tombstones in Their Eyes * Transmissionary Six * Tubs * Trotsky Icepick * Underlined Passages * Veldt * Sharon Van Etten * Mike Viola * Wedding Present * Wednesday * White Stripes * The Who * Yo La Tengo * Zombies * Cherry Stars Collide – Dream Pop, Shoegaze and Ethereal Rock 1986-1995 (Box) * Elemental Child (Marc Bolan Tribute) * The Inmates Are Running the Asylum (Best Of K.B.D. Punk 1978-88) * Teenage Glampage – Can the Glam 2 (Box) * Too Much Sun Will Burn: The British Psychedelic Sounds Of 1967, Volume Two (Box) * And Hundreds More!
Lastly, thanks to our Patreon sponsors, who make our magazine and weekly radio Big Takeover Show at Real Punk Radio (all archived at The Big Takeover online) viable, without whom we'd have to stop one or both! If you'd like to join them and help support and sponsor us, it is easily done at that Patreon site, or you can always send a check to Big Takeover to our address as a kind donation. We're very grateful!
Hope you all buy the magazine now that it's coming out! And/or hope you subscribe, as that is still by far the best way to support the print magazines you love if you want them to keep going. It means a lot to them – and us!
And hope you can share the gift of reading and passion for music with your family, friends, and anyone else who is interested! If we can help you, let us know!
And in this unusual time, we hope you are all well and staying that way.
Cheers!
Jack R