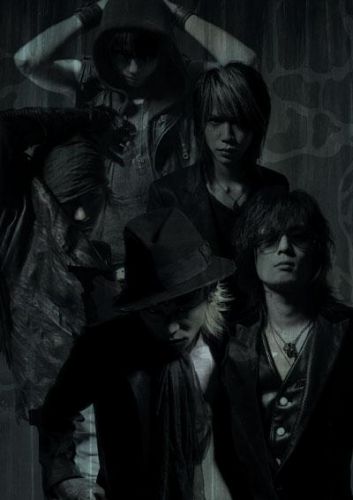 11 October 2006
Since 1997, the five members of DIR EN GREY have thrashed their way to prominence in Japan, leaving an indelible bruise on the rock scene wherever their black leather boots have tread. Now as ever, singer KYO explores the grotesque in his lyrics, plunging vigorously into the revolting and the absurd, while guitarists DIE and KAORU, bassist TOSHIYA, and drummer SHINYA forge full-metal alchemy infused with punk, funk, and electro with a savvy sense of pop perfection always in mind.
2006 saw the first official American release of Dir en grey's music with the album Withering to death, as well as their first ever US show at South By Southwest in Austin last March followed by two sold-out dates in New York and Los Angeles. Never ones to be pigeonholed, the genre-defying group toured alongside KORN, DEADSY, and countless others on The Family Values Tour this summer, proving that while the band is from Japan, Dir en grey is not just a 'Japanese rock band.'
Before the interview began, their publicist mentioned that I shouldn't ask any non-music related questions pertaining to Japan. Stuff about anime, manga, or cosplay was strictly verboten, which goes to show how many other journalists must have been asking those questions all summer. Just as HEART or THE DONNAS strive to be regular rock bands yet still receive references to their gender all over writings on their music, Dir en grey faces the same challenge with the 'Japanese rock band' moniker. While there's nothing wrong with being associated with the band's home country, categorizing Dir en grey as 'Japanese rock' just takes away from the universality of their music. As I noted in the review of Withering to Death in Big Takeover #58, even for non-Japanese speaking listeners, "the emotion in each song is so overwhelmingly rich that you can't help but feel you understand every word."
Overall, there was only one main difference between interviews I've done in the past with American or British artists and the one I conducted backstage at the Nissan Pavilion in Bristow, Virginia with Die and Shinya. Dir en grey's helpful translator NORA was a necessity (my Japanese is still limited to inane chit chat), but, besides that, the band members were typical rock 'n' roll guys – oozing understated cool, antsy to get onstage, and a little over the whole interviewing process – nothing particularly Japanese about that. Dressed in 'rockstar casual' attire, Die did most of the talking, his red-highlighted black hair swept haphazardly across his pale face, while Shinya sat further away, listening quietly and interjecting a few words now and then, his honeyed mane and aviators reminding me of countless 1980s metal stars.
To start on neutral ground, I began by asking about the whole Family Values experience. "The best thing has been just being on this tour," Die answered happily. "Being with all these different bands, being able to watch their shows every day and spend time with them. Its been a very exciting time for all of us." And despite language barriers, the band have managed to become good friends with all of their touring mates. The only downside to the experience, Die noted, was the Jones Beach show being cancelled. "The fans were there and they couldn't watch the show and we feel very bad for everyone – but it was something unavoidable since the hurricane hit," he explained.
Unable to completely refrain from cultural questions, I inquired about variation among concertgoers in America and Japan. "We don't think there's a difference bertween American and Japanese fans," Shinya said as Die nodded in agreement. And what about visual kei? Although the band has been difficult to genre-fy since day one, how do they feel about the scene that spawned them and their former look which included carefully co-ordinated multi-colored pseudo drag? "No comment," was the answer. Clearly, Dir en grey does not want be associated with visual kei. So it made sense when asked about their onstage fashion choices these days, Die causually remarked, "for us there's no theme or anything, whatever each member wants to portray, it's what they do."
Whether intentionally or not, for the past year the band has laid waste to stereotypes about their background and music. As Die explained, Dir en grey's sound is always developing from album to album and it is unlikely any rock category will ever fit them. But as I mentioned earlier, that's really not the point of their mission. Spreading their clever sleazoid disease across America is the goal these days. And why did it take so long, you ask? "We just never thought about it," Die chuckled. "Even in Japan we're still fighting our way in the scene. To us America seemed too far away, it just never crossed our mind to come here. But recently there was someone from the American side [in Korn's camp] that said you can do this, so it was also that person who told us we had a chance to come over." Next time Dir en grey comes back, Die said with a smile, "we want to bring our full production from Japan so people here can experience what Japanese fans are able to experience back home!"
Look for Dir en grey 's new single, "Agitated Screams of Maggots" out in November.