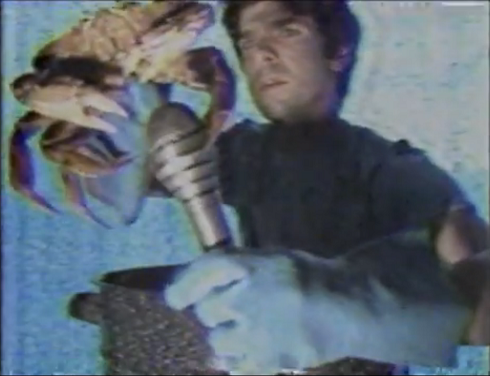 20 December 2013
Sometimes, it takes time.
There are all sorts of stories of bands that put out fantastic records that, for one reason or another, did not get the attention they deserved. As a Vancouver-based writer, some of my favourites include (apocalyptically Christian garage rock group) The New Creation, (politically-honed punkers) The Spores, and (danceable art punk/ "New Wave" band, if you ignore the pejorative associations of that term) Red Herring – three very different groups whose brilliance, due to poor distribution, the nature of the music biz and communications tech, and various shifts in format, has only just begun to be appreciated. You can finally hear the odd Spores song (or watch one of their videos ) on Youtube, and order their compilation CD through Joey Shithead 's label, Sudden Death Records (it's a gem, I promise, and includes bonus tracks, unreleased new songs, and both of their rock videos). The New Creation – who originally released their music on a totally ignored 1970 private pressing of 100 LPs – have, thanks to the efforts of late Vancouver record dealer Ty Scammel, outsider music scout James Brouwer, and the good people at Companion Records – have had both a CD and an LP reissue, and recorded a follow up album, the end-times themed A Unique Disaster . And much to my delight and surprise, now that they've gone off and had families or careers or gigs with other bands, Red Herring is getting back together – not a well-remembered band, but a brilliant one, which is exactly the kind I like to write about…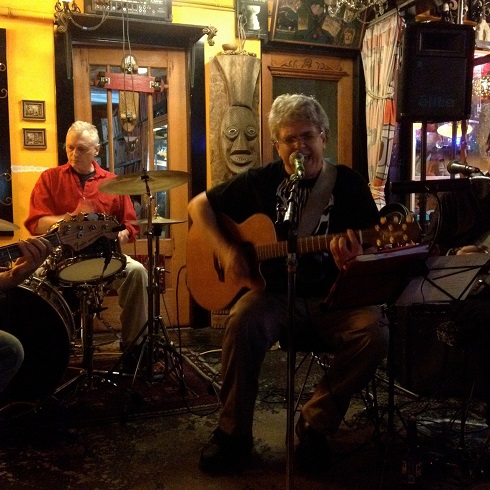 Red Herring is comprised of keyboardist/ vocalist Enrico Renz, guitarist Stephen Nikleva, bassist Martin Walton, and drummer Steve Lazin. Their initial incarnation was circa 1985 in Vancouver, where they won a Shindig! battle of the bands sponsored by CiTR radio. They co-existed alongside similarly quirky art/punk/dance/wave bands like Animal Slaves (the vocalist of whom, Elizabeth Fischer, was spotted at the first Red Herring reunion show , last month at Vancouver's Prophouse Café). They made two of the most creative rock videos I've seen – for their peppy anti-consumerist manifesto Taste Tests and their much stranger The Crab Song . They recorded one EP, Taste Tests, appeared on a compilation cassette (Undergrowth), a live album (Shindig!), and then disappeared into the mists of time, with various members going on to other projects (I previously mentioned Stephen Nikleva in my interview with roots musician Petunia, here ).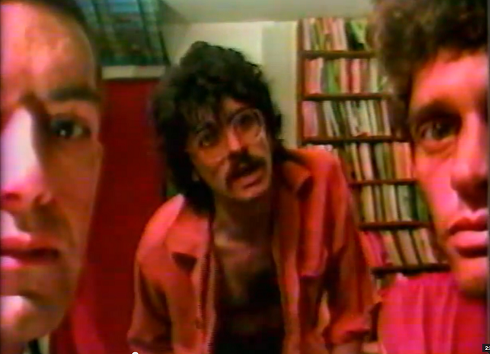 The following is an email interview with Red Herring frontman Enrico Renz; those in the area on December 23rd are highly advised to check out their second reunion show at Vancouver's Railway Club. The band's new material is folkier and less intense than their original songs, but when they fell into the groove of their "classics," to an audience of about 30 people at the Prophouse, it surprised them as much as anyone how hot they were… It's time to give Red Herring their due!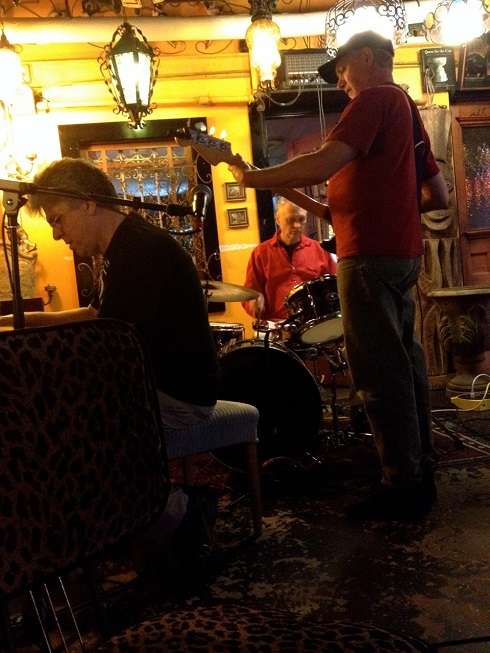 All Red Herring photos and screengrabs except one courtesy of Erika Lax
Interview with Enrico Renz
So how did it feel to play live as Red Herring again?
Pretty awesome! Didn't think it could happen again – we were such a tightly rehearsed band back in the day it seemed like just too much work to climb that mountain again. Also, we used to play really fast and jump around a lot pretty physically demanding. Plus it can make you a bit queasy seeing old guys reenact their youthful bravado…
A lot of the new songs at the Prophouse were really cool, but didn't feel like "Red Herring songs." So
a) will there still be a few of those to round out the set at the Railway?
b) will you be writing "new Red Herring songs" now that the unit has revitalized – or "Red Herringizing" ones already written?
I like the variety and the growth. I don't think anybody in the band is interested in just unfreezing the old Red Herring. What made that band really exciting to be a part of was creating together; I get the feeling that we got back together again because we all believe that the best is yet to come. We just had to take a break for a couple of decades to go gather more skills and experiences to throw into the soup.
I wanted to ask about two of the new songs of yours – the one about overpopulation and the one about a laboratory ape reflecting on his carefree days in the jungle. What's the history of those songs, what are the proper titles, and should we conclude that you have a bit of an interest in matters ecological?
"5 Billion People" was written in the mid eighties when the world population hit 5 billion. Although this milestone is referenced in the first line, the song isn't really about overpopulation at all, but more about our age old tendency to monetize relationships. From the protagonist's perspective, more people simply means more customers.
"The Monkey Song" was written around the same time, long enough ago that I don't remember what brought it into being. I'm always trolling for words. Sometimes something gets snagged fairly far down below the surface. I may be quite a ways into the song before I know where it's going. It's kind of like going down a waterslide – you do what you can to keep yourself upright but once you're in the song you're gonna go where you're gonna go. In this case it turned into a song sung from the perspective of a lab monkey who is proud to be of service to humanity.
How did you come to be a musician? What's your prehistory?
Well, you know, it's been a long road. Most of my life I couldn't call myself a musician. Though I felt overwhelmingly drawn to the calling I never considered myself skilled enough to wear that title. I still have some pretty major short-comings, but I've learned to see them as blessings.
I've always had an artistic and a philosophical drive. The urge to create and the need to make sense of existence have been shoving me since forever. My major at UBC was philosophy but I'd been writing music and words since high school.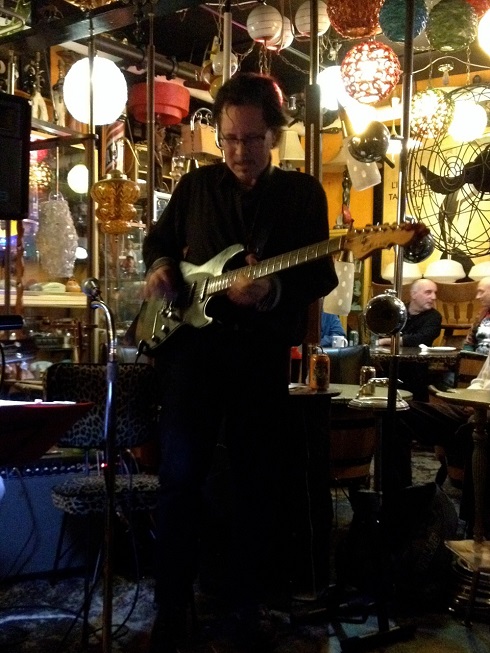 If we could go back through your history, Stephen Nikleva tells me that BC author Keith Maillard had a hand in introducing the two of you? How did you get to be playing music together? How did Martin and Steve join in?
One of the electives I took at UBC was a songwriters' workshop run by Keith Maillard. He wrote novels but he was also the bass player for Ferron. He and Nikleva were on her first album together, and Keith introduced me to Nikleva. We started collaborating intensely, Nikleva transcribing all my songs and reaching out to his various musical connections to try to build a band.
Sook Yin Lee of Bob's Your Uncle introduced me to Martin. Steve introduced himself.
I've seen a couple people place the band musically in a "sorta like the Talking Heads" camp, but what were your actual inspirations? Did you, incidentally, ever identify as a punk? Who are your musical heroes these days, and who were they then?
I'm open to everything but not an ardent follower of anything. We jammed with punks but also with jazzers. Loved it all but fit in nowhere.
I noticed Elizabeth Fischer at the Prophouse gig… did the Animal Slaves have any interesting interactions with Red Herring back in the day? I didn't make it to a lot of gigs at that time, being a kid living in Maple Ridge – but it seems like there was an interesting "art punk/ dance scene" going on, and I assume there was some camaraderie between bands in it…?
Stephen played guitar with the Animal Slaves for a while. Martin and I played with No Idea, fronted by Ken Gerberick of Anoyz and The Haters. We hung out a lot with the Bob's Your Uncle, Wing Nuts, John Doe gang.
The two videos for "Taste Tests" and "The Crab Song" are a lot of fun. What's the history? Who directed them?
Both videos were self directed and filmed in my apartment.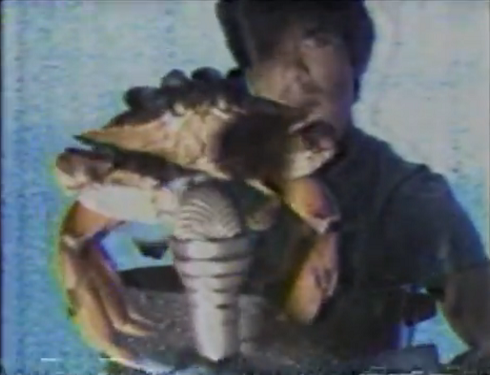 If you could, could you tell us the story of the crab in the video? (And how you came to write that song?)
The crab has faith in water so even as he's facing a boiling pot of it, he's ok with that. After all, God is a crustacean. No crabs were hurt in the making of this video – the crab was released back into the ocean. (Note: Renz, as he told the story at the Prophouse gig, also included the detail that they had bought the crab in a grocery store, so it was truly a reprieve for this animal, otherwise bound for the pot. If only crabs could talk, what a story it would have!)
What have you been up to in the intervening years, while not fronting Red Herring?
Raised a family , became an elementary school teacher, and got very involved with playing improvised music for contact dancers. Recently got back into playing publicly as a solo artist. Also did some pretty cool gigs with didgeridoo master, Shine Edgar. Those sessions are always completely spontaneous quests for Dreamtime. I also host a weekly open mic for songwriters and I'm also one of two guitarists backing up spoken word artist, Lilija Valis.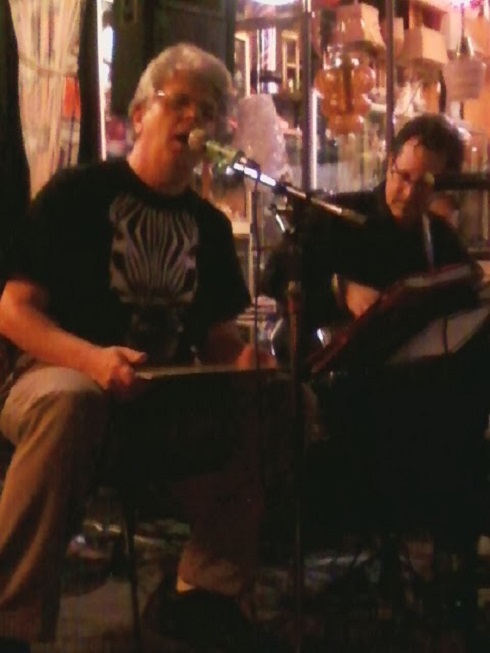 Two songs I did not know got requested by someone at the Prophouse, so I assume they were old songs from the band's set that never got recorded: "Neon" and, I think, "Rocketship." What's the history of those songs, and what are they about?
"Neon" is about the lure of the night… "where the painted ladies roam the street to let you know that you don't have to be alone." "The Rocketship" is what we were counting on to escape the planet after we mangled it… unfortunately it's broken: "we called in the technicians, a very special crew, but even the technicians say they don't know what to do."
The real surprise for me of the night was "Love Machine." It's a song on the EP I always kind of ignored, to tell the truth, but it's great! Where did that song come from?
It started with a riff I wrote on guitar. It's a one chord song, so the challenge was to make it move along with no recourse to harmonic development. The protagonist brags about the reliability of the love machine he built and programmed: "no she won't ever fall in love with a stranger"…
Where were you working when writing "If You Work For Me?"
In the same place I worked when I wrote "The Cubicle Song": "in my bright and cheery cubicle where nothing can go wrong, I settle down to do my job cause that's where I belong. The walls of all our cubicles show just how far we've come with pictures of our loved ones and awards we all have won."
How can Red Herring fans of yore help get the word out about the band?
Crawl out of the woodwork. Would love to see them all again!