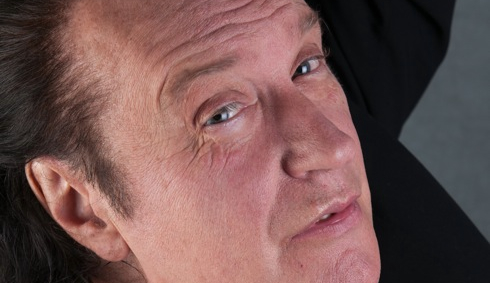 9 November 2013
Dave Davies portrait by Ian Heath (excerpt).

Dave Davies' lofty position in the pantheon of popular music would be secure even without the existence of a Rock and Roll Hall of Fame or the Kinks' extensive and influential body of work. As the seventeen-year-old lead guitarist of the British Invasion icons, Davies made a destructive innovation nearly fifty years ago that became foundational for hard rock, punk and metal.
Before recording the band's breakthrough single "You Really Got Me" in 1964, a frustrated Davies slashed his amplifier's speaker cone with a razor blade and poked holes through it. The distorted roar that ensued defined the Kinks' signature sound.
Forty-nine years later, Davies commemorates that event with "Little Green Amp" from his new album I Will Be Me. The song reclaims the snarling-dog growl of "You Really Got Me" while inverting its famous riff. Davies confirms the song's subtext about redirection of negative emotions into creativity and growth.
"That's just what it was, although I didn't think so at the time," says Davies with a laugh. "It was an important time in the formation of the Kinks, and there was a lot happening in my own life. I was full of rage. Luckily, it came out in a positive way. I tried to condense all of the emotions into the song, and make parts of it funny as well."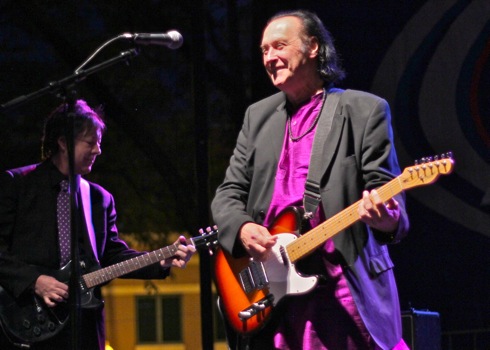 Dave Davies and Jonathan Lea (left) at Taste of Lincoln Ave, Chicago.
7/27/13. Photo by Jeff Elbel.

Despite the backward glance, I Will Be Me is not a nostalgia trip. With heavy rocker "Livin' in the Past," Davies describes the danger of placing too much importance upon personal touchstones, using vinyl records as an example within the lyrics. "If you have to escape a difficult situation, you can't always carry everything with you," says Davies. "The song is about dealing with the future in an optimistic way. You can't run away from it. Some of the last lines in the song are 'No matter what they say, the future's here to stay.'"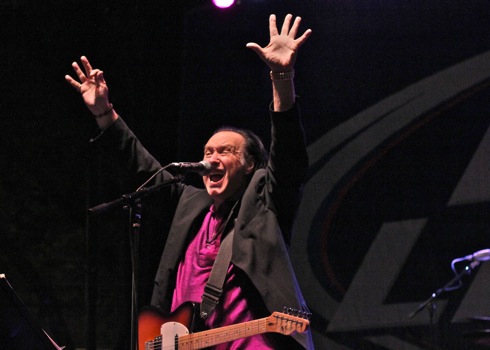 Dave Davies at Taste of Lincoln Ave, Chicago. 7/27/13. Photo: Jeff Elbel.

Davies' presence as an ongoing creative force is all the more poignant given his remarkable recovery from a debilitating stroke suffered in 2004. Since re-learning to walk, talk and play guitar, Davies has recorded two albums and resumed touring. His upcoming shows feature a crack rhythm section comprised of members of Los Angeles band The Jigsaw Seen. In addition to showcasing timeless songs like "Living on a Thin Line," the concerts will double as celebrations of life itself.
"I feel really great," says Davies. "You always have to watch your health. It's about balance, really." Davies cites meditation and optimism as being elemental to his recovery. "It's important to maintain a positive attitude. If you get too sad and depressed and feel like giving up, that affects you not only mentally and emotionally, but also physiologically."
Davies is currently finishing a guide to meditation called Heal for the Kindle. "I hope it will be out before Christmas," says Davies. "It's based on things that I do, drawn from various systems of philosophy and yoga."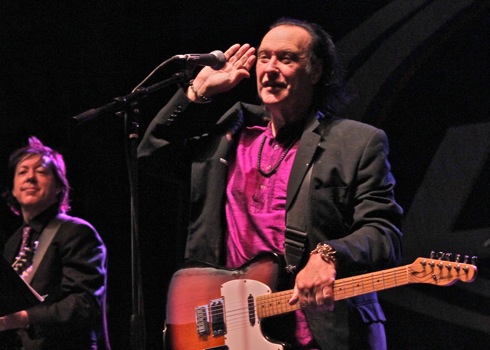 Dave Davies and Jonathan Lea (left) at Taste of Lincoln Ave, Chicago.
7/27/13. Photo by Jeff Elbel.

In addition to new material, Davies has been lashing into Kinks favorites not often heard at brother Ray Davies' concerts. Dave's "Death of a Clown" was a UK #3 single in 1967. "I felt more like a performing seal than a rock musician at the time," says Davies, recalling the circumstances that inspired the song. "I realized that entertainment can be just like being in the circus. They laugh at the clown because he's sad. All of those feelings came to the surface. What the hell am I doing it for? What's the point?"
"We all go through moments like that in our lives," says Davies. "That's what 'Death of a Clown' is all about: disillusionment. Which can be inspiring."
Given the song's success and trying times with the band, Davies had thoughts about going solo. "I was thinking about it," says Davies. "But what was interesting was that when the feelings surfaced, and I wrote about it, recorded it, and it became successful, I suddenly realized that was all it needed. That discontent came out in self-expression."
"There's a lesson for us all in that," he says. "We should try to get stuff out, and sit back and look at if for what it really is. When we keep everything so tightly inside, I think that's where we develop a lot of scary problems with mental and emotional health. Sometimes, sadness and frustration and anguish can twist you around and knock you about and squeeze you. But you might get inspired by those feelings. Art is a great vehicle for learning about ourselves in an abstract form. I do feel that as human beings we're supposed to be happy."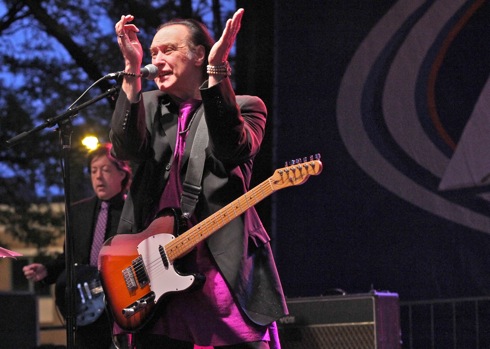 Dave Davies and Jonathan Lea (left) at Taste of Lincoln Ave, Chicago.
7/27/13. Photo by Jeff Elbel.

A tender song from I Will Be Me called "The Healing Boy" occupies the sunnier end of the emotional spectrum. "It's about the birth of my new grandson," says Davies. "It sounds quite ordinary, but when you experience it, it's transformative – a new child coming into the family, and being a grandfather. After all I've seen, nothing compares to it. He's my first grandson, starting off a new generation of Davieses."
Family ties, of course, figure prominently in Kinks lore.
Dave's fractious partnership with older brother Ray fueled 23 studio albums. The band's history is littered with tales of rivalry, excess and onstage brawls. 1993's Phobia verbalized it with "Hatred (A Duet)," during which the brothers flung wicked barbs at one another.
Davies recalls Charles Bukowski's script for Barfly as a key influence upon the song. "Mickey Roarke's character is sitting in his shabby apartment drinking whiskey while two people in the apartment next door scream and fight," he says. "He smiles and mutters under his breath, 'Oh, it's hatred. It's the only thing that lasts.'"
"It's all done in humor, really. You have arguments with family members, throw things, maybe even a punch. But you realize that you love each other, eventually. There are many Kinks songs that support that unconditional love that you have in family."
"Much of the Kinks' music is drawn from family events and characters and feelings. A lot is about how the family was in the 50s, and after the war. Family have been the backbone of the Kinks music, apart from Ray and I driving each other crazy for most of our lives."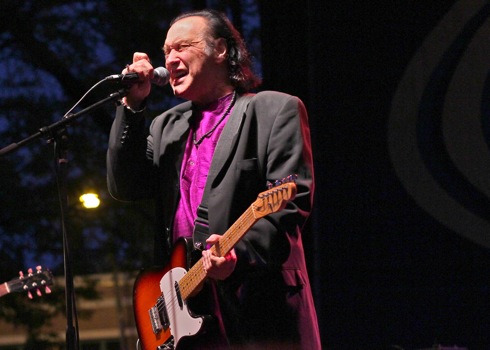 Dave Davies at Taste of Lincoln Ave, Chicago. 7/27/13. Photo: Jeff Elbel.

Even now, the pair profess admiration and take potshots in alternating breaths. Launching his book Americana at a New York City bookstore during late October, Ray called Dave "an inspiration and an irritant."
Would Dave say the same about Ray? "Probably not," he says. "The irritant bit, maybe." Still, he can't hide a conspiratorial laugh before admitting, "I think we've inspired each other immensely. We were never short of ideas. There were too many ideas, and that's where a lot of the conflict came from."
At his Chicago appearance in July for the Taste of Lincoln Avenue street fair, Dave slung a honeyed barb the other way. "I'm going to play a song for my brother, even though that bastard wouldn't dedicate a song to me," he said with a wicked grin. He then played an affectionate version of the sentimental "Young and Innocent Days."
"I've always loved that song," says Davies. "It's been a difficult career with Ray and I at loggerheads, but there's an underlying support mechanism [family]. We've had great success and then failure. Up and down like a yo-yo. When times are bad, you pull yourself together and galvanize your emotions. Sometimes, the most interesting things happen when your back's against the wall."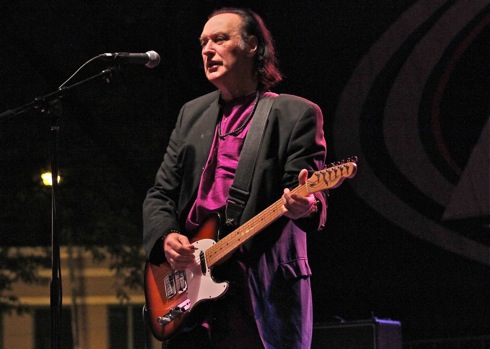 Dave Davies at Taste of Lincoln Ave, Chicago. 7/27/13. Photo: Jeff Elbel.

The brothers point fingers at each other for stalled attempts at Kinks reunions. "All he's got to do is pick up the phone," said Ray during a 2011 solo stop at the Chicago Theatre. "Yeah, and then I'll pick up the phone and go and meet him, and he's rude and horrible," says Dave.
Still, Dave has been spending time in New York, and the brothers took the opportunity to meet during Ray's recent book trip. "We talked more positively about hooking up," says Dave. "Hopefully, we'll spend some time at Christmas and work out if it's possible to do something. I think it would be a shame if we didn't try."
TOUR DATES:
12th November, 2013: City Winery, New York City, NY
13th November, 2013: Ram's Head On Stage, Annapolis, MD
14th November, 2013: Bergen Performing Arts Center, Englewood, NJ
16th November, 2013: Seneca Niagara Casino, Niagara Falls, NY
18th November, 2013: City Winery, Chicago, IL, (312) 733-9463
19th November, 2013: SPACE , Evanston, IL, (847) 492-8860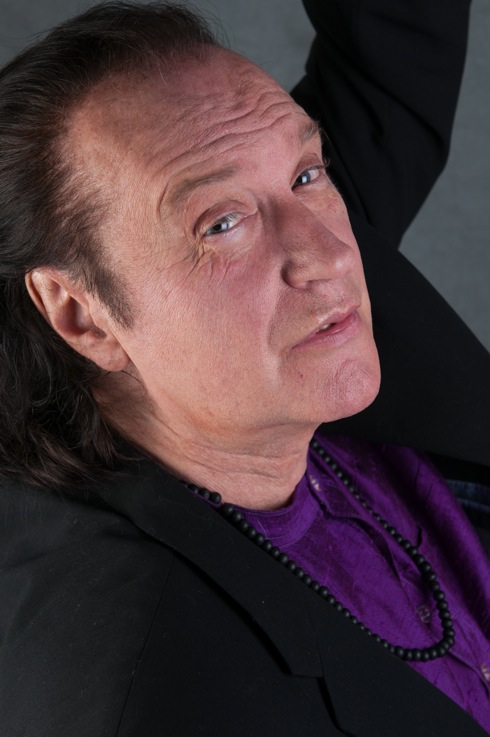 Dave Davies portrait by Ian Heath.