21 March 2007
New York rock scenes from the past 50 years still loom large and specter-like, in all their romanticized glory, above any current musical happenings in the city. The ongoing need to find the newest addition to this long and mythical line of artists too often prompts local music fans and critics to concoct a scene out of thin air. It's difficult, however, to resist the temptation. So, instead of speculating any further, asking the musicians themselves seemed to be the best plan of action. Over the course of an evening, in bathroom lines and at bars, I tracked down P.H. LOVECRAFT, singer for the FUNERAL CRASHERS, PETER MAVROGEORGIS, singer for the BELLMER DOLLS, and JOSH STRAWN, singer for BLACKLIST, to see if they believed in the existence of a burgeoning NYC dark rock scene. Here's what they had to say: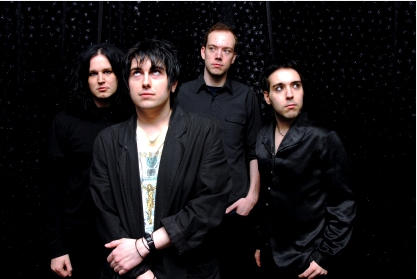 P.H. Lovecraft: I don't want to say anything about a scene because honestly I don't know, but I think that there definitely is an interest in a dark aesthetic with a lot of people drawing from early goth influences and post-punk. It seems like people being interested in post-punk again has paved the way for bands to be doing what we're doing, but I think it's premature to call it a scene. I mean, my band and Blacklist and the Bellmer Dolls don't sound anything like each other, but you sort of get a sense of an aesthetic. And we are interested in those aspects of what has been considered goth. It's interesting that this is happening, and I hope that it's not entirely revivalist because we're all trying to evolve things. Yes, you're going to understand our shared influences when you listen to the music, and that makes us compelling for now, but is that a scene? Give us two more years and let's hope nobody sells it out from under us.

Peter Mavrogeorgis: I think for us it's really tough to be pigeonholed and we're desperately trying to get out of that, but it's either something more dark or it's a hipster crowd. We still haven't found a way to bridge those two scenes where we can confidently say that we're going to get our whole entourage showing up at the same time. The girls in the black veils will show up, or it will be the women in the slouchy boots. We can't get them to come to terms with each other, so it's tough. I really love the idea of a scene. When I think about the '70s in New York, when it cost 20 dollars a month to live in the city and people weren't really competing, they all helped each other, like they'd all work on art together, with rich people getting absurdly on with the riffraff at a place like Studio 54 – we don't have that now. I long for that. But I'm not looking for a dark music scene, I'd just like to see some comraderie. As far as pushing a certain kind of music, we don't even consider ourselves dark music. I mean, I'm an extreme optimist. I play optimistic music. I'm not really into dark music, but it seems that dark bands flock to us, and would like to be one with us, which is fine, but it'd be great if it was everybody.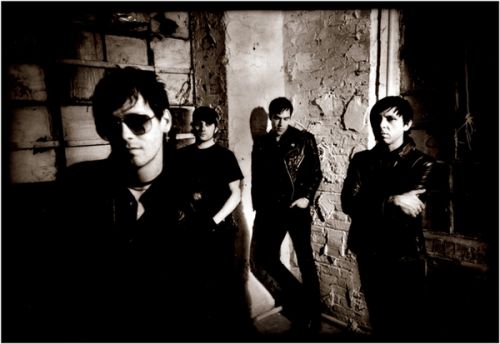 Josh Strawn: As far as I know about all three of our bands, it's just a dark aesthetic. Hanging around with all these guys, everybody has a similar aesthetic, but it's not neccessarily bound up with bedsick depressed whining and wanking. It's more intense and energetic and that's the sense I get. I always felt it was really weird to be into dark music in the last 10 or 15 years or so because it had taken a turn to the point where everybody saw it as this really silly adolescent thing. But it sounded the most modern to me, and I think that now, when everybody is searching in the middle of all this post-modern bullshit for something that makes sense, everybody is finally coalescing around it. So yeah, we definitely feel a connection.
Bellmer Dolls photo by Tim D. Richardson
Blacklist photo by Scott Irvine
Funeral Crashers photo by JKart