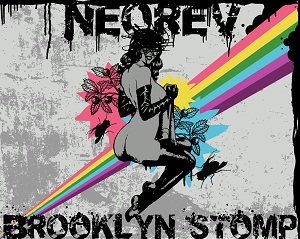 29 May 2012
Hot on the heels of Neorev's powerful sophomore effort, Children of the Bomb, Michael Matteo releases an EP that features some of his strongest songs to date.
The title track comes from Children, a booming dubstep assault that takes no prisoners at it attacks in a frenzy of wobbles and insistent kick-snare beats. A series of remixes of "Brooklyn Stomp" are included on this EP, each having a different take on the powerhouse track, but it's really Matteo's other compositions that stand out. "Blue Lines" blends an italo disco groove with industrial sensibilities to create a track that is as danceable as it is aggressive. "Tantrum" is iron-fist-to-the-face dubstep and "Gangrenesta" adds glitch elements to the dubstep mix for a spastic take on the genre. "Hard Style" and "Basshead" pay homage to hip-hop, the former sounding like a Rick Rubin outtake, while the latter includes vocals by a rapper called Villain. The closing drum and bass onslaught of Lockdown's Rusko-esque remix of "Coming on Strong" ends everything on an extremely high note.
With this collection of tracks, Neorev proves to be a solid force in underground electronic music. His future looks extremely bright.