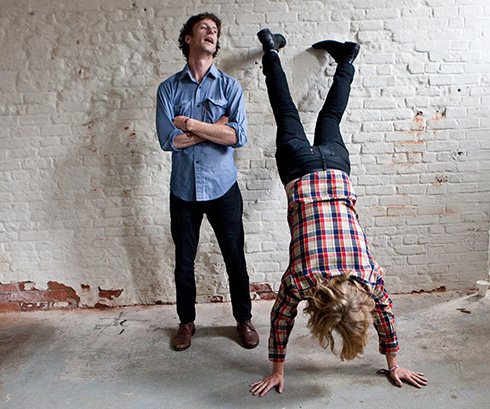 29 July 2011
Sic Alps are a prolific, largely unclassifiable indie/garage rock unit from San Francisco. Their sound is a mix of noise, pop and garage influences with a self-aware sloppiness that's as charming as it is steeped in the history of the outer fringes of these various genre signposts. After releasing singles and full lengths on a grand tour of American independent labels (Siltbreeze, Animal Disguise, Woodsist, Important and more) and making a name for themselves as a thrilling although occasionally unreliable live act, the band has settled in at Chicago's iconic Drag City, who this year released their daunting double vinyl slab Napa Asylum and will shortly be offering up a couple 7"s from the group.
After an early spring tour in support of Napa Asylum concluded with the departure of long-time member Matt Hartman, founding member and sole constant Mike Donovan recruited Ty Segall (himself a former member, with a growing profile as a solo artist) to re-join. The band played a short east coast tour centered around an early afternoon appearance at Wilco 's Solid Sound Festival on the grounds of Mass MOCA in North Adams, MA. Writer Max Burke and myself caught up with Donovan and Segall just after their well-received set at the festival.
BT: So you guys just went through some big lineup changes and now it's a duo with you and Ty?
Mike Donovan: Ty was in the band in 2009 for almost a year, but as a duo these are the first shows. Our friend Eric Bauer is playing with us too, Eric's doing noise and guitar. He recorded Ty's last two albums and a new Sic Alps 7" called "Breadhead."
And that's coming out on Drag City, that's your home now?
MD: Yeah, it feels like home. I've always loved that label. I saw the Drag City Invitational in 1994 with Smog, Royal Trux and Silver Jews, all those great bands. So I've been a fan since then. Every few years I'd check in, look at all those cool names on the website. [I'd think] Maybe someday…
Ty you have a solo record on Drag City?
Ty Segall: Yeah, it just came out. [Goodbye Bread].
The first thing you did on Drag City was the reissue of A Long Way Around to a Shortcut. Did they approach you to put that record out?
MD: Yeah, Matt had known Dan Koretzky for a long time because he was a roadie for The Champs. So Dan came to one of our shows when Ty was in the band in Chicago. He picked up the US EZ record [and said]: "I wanted to put out this record," or that he would have loved to put it out, something to that effect.
So this is the first set of shows in the new trio configuration?
MD: Yeah this is the fourth show, we did one in SF and three so far on this east coast tour.
How is it being based in San Francisco, as the cost of living can be pretty high?
MD: I've been there fifteen years and I can work two days a week and embrace poverty and live well.
So the band is your full time gig?
MD: Yeah, I drive a taxi two days a week for steady money and money trickles in from music.
You played last night in New York and this afternoon in Massachusetts. That's pretty quick turnaround.
MD: Yeah, I haven't slept yet.
TS: He was the champion, I fell asleep for like four hours in the car.
Did you have any idea that the Wilco guys were listening to your records?
MD: No, but there is a Chicago connection with Drag City.
What's your impression of the festival so far?
MD: It's awesome. It's really positive
TS: We were saying: "Wow, no one's on acid, no one's puking. There's like little kids running around. This is great!"
MD: Our friend Luke who's travelling with us thinks it's a great place to meet a wife.
[Laughter]
MD: It's a really cool kind of a compound.
I saw you guys play a show opening for Quasi a few years back. Now you're playing with Wilco. Do you find that other musicians respond to your music and get what you're about?
MD: Yeah, we've played with really great bands. Sonic Youth, dates with Pavement, Yo La Tengo. We played with Neil Hagerty. I think it's by virtue of our age maybe…
TS: Two older guys, know what I mean?
MD: I'm an older indie rocker.
You think older bands see where you're coming from?
MD: The things I'm doing now are things I was thinking about, or doing, for a long time. I don't know how to put it: we're on the same page. Those guys and I are on the same page. Those are the guys who made it happen.
Talking about San Francisco, there was an article in Pitchfork a couple months ago, talking about the new San Francisco sound –
MD: I haven't read it.
Do you feel like you're part of a four track scene or a garage scene?
TS: I'm sure for the people in the bands it's not like "one scene." To be honest I feel like Sic Alps, Thee Oh Sees and a few other bands: that's a total scene with friends. But it's weird when you're playing with those bands to really be like… The Fresh and Onlys, Sonny and The Sunsets, us, and all these other bands — are we a scene? It's weird to recognize that, you know what I mean? It's definitely a scene, it's just harder to say "The San Francisco scene is one scene." There's a lot of different stuff going on.
MD: It's kind of a small city but a lot of those guys are in a lot of really good bands and are friends and are part of the scene.
You guys are in the same circles?
TS: No, it's more like a friend vibe scene.
Whereabouts do you live in SF?
MD: The Western Addition/Lower Haight.
And you Ty?
TS: I just moved away from right next to him and I'm homeless at the moment, I'm a vagabond.
Did you guys structure the tour around the Wilco festival? Was there any sense of urgency after the line up change to honor the commitments?
MD: I don't know if there was a sense of urgency, there was a sense of positivity and I said yes to everything. This was one thing on the table I said yes to.
How did you feel about the reception of your set earlier?
MD: I think a lot of people had never seen us or heard us. It was a cool response.
I picked up a bit of Bassholes and Gibson Brothers influence in the live show.
TS: Gibson Brothers, really good stuff. For me anyway, on a personal level.
Yesterday Purling Hiss played early in the day and it seems nice to play in this context with young children and older people who are receptive to that kind of music.
MD: Yeah, we're a bit different from the other acts. But it's good for us, good for Wilco too.
I was wondering how much you guys have rehearsed the new lineup?
MD: We rehearse at my place. I have enough space to turn up an amp, play a little drum kit.
TS: We had a few practices. I knew a lot of the stuff from last time I was in the band. So we just needed to do some brushing up.
MD: He's a real quick study too.
TS: No.
Not at all?
TS: I mean, "Thank you."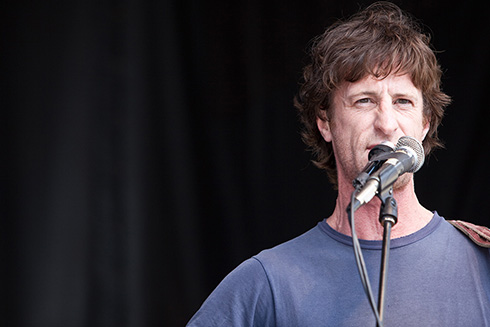 Was the new 7" recorded with this lineup?
MD: Ty plays on one of the songs….there's a lot of people on it. Noel [Von Harmonson, of Comets on Fire], we're still playing together, he's in Sic Alps. He wrote the riff on that one. There'll be another 7" right after that to, on Drag City. I want to say the date, it's not set, but it'll be very close after that.
Sic Alps has gone through a lot of changes, you have the name established, do you consider Sic Alps your project? What's your attitude toward the name and the names on the records?
MD: Adam Stonehouse from The Hospitals and I started the band. It was Matt and I for a long time, we got a lot of really good work done. I don't really look at it as…I hope that it solidifies into a band but right now I'm embracing the question mark. At this moment, I'm not sweating the question mark.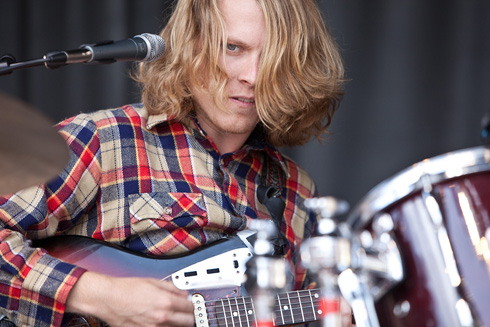 Ty, for you coming back to pay with Sic Alps, is that very organic?
TS: Oh yeah, Sic Alps were my favorite band before I joined and still are my favorite band, even when I'm not in the band.
Your favorite band, either way – in or out?
TS: In or out, still my favorite band. Sic Alps, the best records. Thank you!
comments powered by