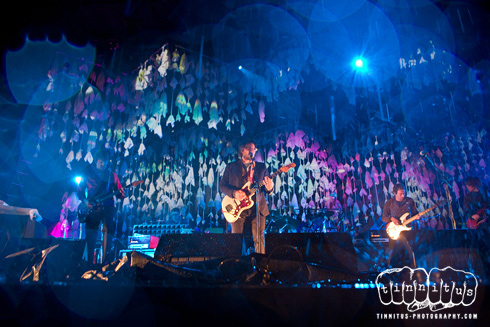 3 July 2011
Just as Being There's "Outta Site (Outta Mind)" states, Wilco's back and they're bringing their friends. Back to North Adams that is, and the environs (both inside and outside) of Mass MoCA, the art museum housed in turn of the century industrial buildings that provided such an ideal setting during the inaugural event last year. Last year's event was quite excellent as a starting point, so how could Wilco improve on the event? Well, for starters, by doubling the Wilco amount. For this year, the band decided to play both Friday and Saturday nights, along with the complement of all the members' side projects scattered throughout the weekend. Along with preserving the pretty diverse lineup (only metal and hip-hop were the major genres omitted from the programming choices), there were fewer indoor performances (limited capacity of the Hunter Center led to people not being able to see The Autumn Defense last year), many more food choices were added (the ever popular Samosa Man was back, but there were more vegetarian options, Joe's Coffee from NYC was brewing, and a truck that served crawdad boils and catfish po' boys was busy all weekend), the beer selection was loads better (hello Lagunitas), and exhibitions such as a falconry exhibit and a hands-on Moog electronics showcase (where I saw Sam Tweedy trying out the theremin while his dad watched) were added as well as Numero Group broadcasting over the immediate area via WSSR, a bandit station known as Solid Sound Radio. Every detail was considered and executed.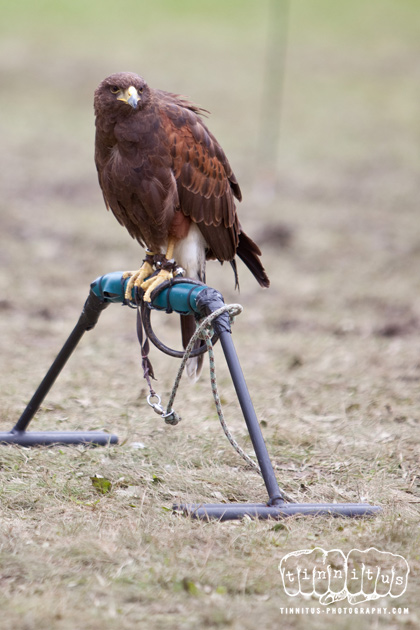 And like the beer (unfortunately, the demand for the special Solid Sound Festival-labeled Wilco Tango Foxtrot far outstripped existing supplies and could not be kept in stock for more than an hour or two on Friday and Saturday), some previous ideas were expanded and improved upon. The record store was a great example. Last year a store from Brattleboro had a couple of collapsible tables in a tent near the entrance, but this year Euclid Records (a St Louis store both Jeff Tweedy and band manager Tony Margherita has strong ties to, and where noted record hound Thurston Moore was seen flipping through the used records after his set on Sunday) had more space indoors just off the large courtyard and there were a series of scheduled autograph sessions by various performers from throughout the weekend. And if you were savvy enough to periodically check the SSF twitter feed or just happened to be in the right place at the right time, you were treated to some impromptu performances in various places of the museum. Unfortunately I missed the Glenn Kotche / Darin Gray / Nels Cline improvisational session that took place at the Schonberg exhibit, but due to serendipity I was able to see Liam Finn play a solo set performed in between giant mounds of foam rubber, The Handsome Family's lo-fi homespun murder ballads in the Katharina Grosse exhibit, with all their shades of song monochromatics at odds with the brightly colored mounds of sand that filled the spacious hall.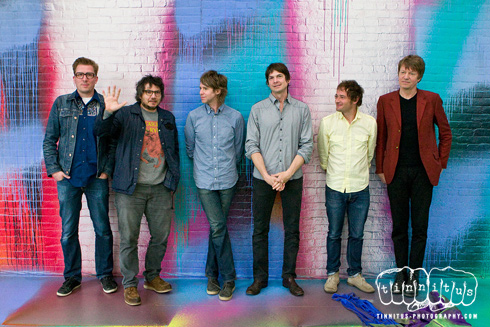 Though most of the 6,000+ (up noticeably from last year's attendance) didn't catch those one-offs, they certainly didn't miss the main attractions performed in the larger spaces of courtyard D and Joe's Field. The field had some bleachers set up that weren't there last year, and there was definitely less open space across the entire field. The other thing that was in plentiful supply as compared to last year was water, mainly in the form of drops falling out of the sky. The clouds thickened during Neil Finn's set (Pajama Party, a somewhat tepidly received set; where did all Finn's hook-writing skills from Split Enz and Crowded House go?) and went to full drench mode and stayed there before Wilco came on. After a twenty minute delay, tempered with a casual attempt at humor from the Mac/Windows guys (John Hodgman and Justin Long and Hodgman would headline the comedy stage portion the next day) before the downpour let up some, "Raindrops Keep Falling On My Head" was played over the PA, and the band of the weekend stepped out on stage. If you've seen a Wilco show, you know what a great live band they are; masters at pacing, judicious cover selection, generous playing time and clever stage banter from Tweedy are all key components of a show. Due to the rain the set was "only" two hours, and Tweedy was keen to keep the set going and not derail it with between song talk and play right up until the hard curfew time.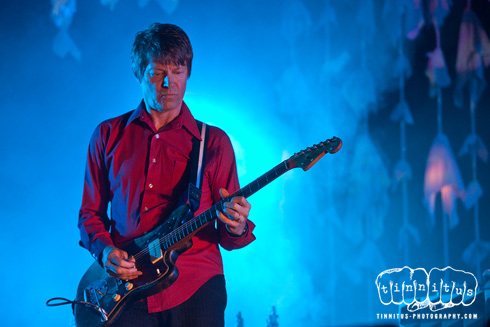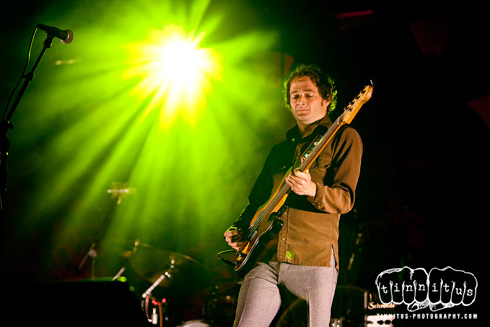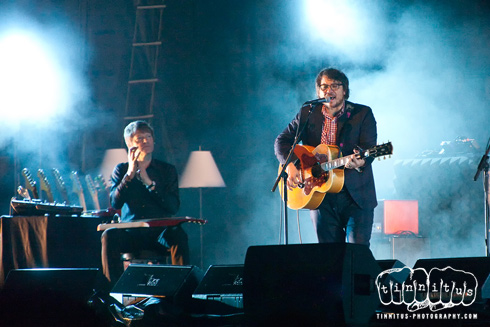 During the set, a few notable occurrences happened: first off, these were the first shows where material off the forthcoming The Whole Love record was played, including the new 7" single that was for sale ("I Might" was the opening track). Also, during "Radio Cure" there was a temporary power outage and the stage lighting and sound were cut off for about 10 seconds. That didn't stop the crowd from continuing to sing along to the refrain of "Oh, distance has no way of making love understandable" right on tempo for the band to pick up the song when power was restored. After the song ended, Tweedy exclaimed "I like this crowd. You've got our backs." During the next night's playing of "Jesus etc" it was de rigeur that the crowd would completely take over the vocal parts, but it was really unexpected in this instance, and you could tell the band was impressed. Hey, that's what happens when several thousand of your fans shrug off the inconvenience of inclement weather, fully engage in and with the band, and lend a hand. There were two segues that were truly electrifying: once when the band followed the LP's sequencing and went from "Poor Places" into "Reservations," and the other at the very end of the encore. Transitioning from a misty-eyed reading of "Red-Eyed and Blue" (is there any other way to play this heartbreaker?) into the rousing "I Got You (At The End Of The Century)," Sansone exclaimed afterwards that he also had one of those "I Got You" songs. And it took the presence of Neil Finn playing guitar and the rush of the "I don't know why I get frightened" chorus for the crowd to realize that Finn's old band Split Enz was being feted on stage via their break-through radio hit.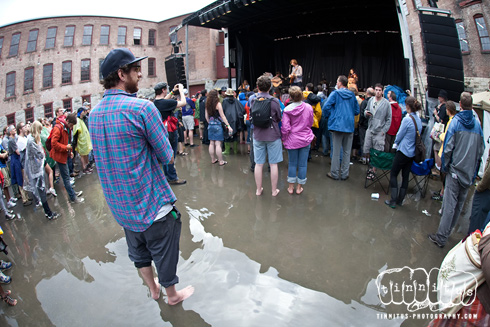 The next night's set was drier (though it really rained hard for a stretch that delayed Syl Johnson's set by some time) and also had a far different set list, with only two songs overlapping. Opening with the new single's B side, a cover of Nick Lowe's "I Love My Label" and a self-congratulatory tip of the hat to their new imprint DBpm records, the new single's A side ("I Might"), and "Born Alone" were the only other songs to be played twice. Wilco's certainly played longer sets, but they refuse to sit in one place to long, at least on stage; there's some feeling from certain elements of the fan base that the next record will show if their mid-tempo studio material rut's been broken. The special guest slot was filled this time by Sarah Guthrie, grand daughter of Woody, who sang on "California Stars" from the Mermaid Avenue record where Wilco and Billy Bragg took Woody's lyrics and made songs around them.
You can't have a festival without a slew of other bands, and it would be remiss not to mention some of the other excellent performances that occurred over the weekend. Jamie Lidell was one such standout, shedding his more cerebral IDM music for a highly dance-able version of British Northern Soul that had smiles plastered everywhere, including Pat Sansone's face, who sat in for most of the performance on tambourine before joining on keyboards and vocals towards the end. Thurston Moore shed the feedback-driven sonic overload of his main band and went for a lush, acoustic, and starkly beautiful set based on his just-released Demolished Thoughts, bringing along Mary Lattimore (harp) and Samara Lubelski (violin) to augment his and Keith Wood's acoustic guitars. Drummer John Moloney was nattily dressed in suit complete with boutonnière, just in from serving as best man at a friend's wedding.
JC Brooks & the Uptown Sound stormed the Sunday stage with a high energy run through of classic soul and R&B using the James Brown road map, and Tweedy got on stage to lend a voice to their transmogrified cover of I Am Trying To Break Your Heart. Dave Douglas & Brass Ecstasy had heads bopping and feet stomping with bold splashes of tuba, trombone, french horn and trumpet that recalled the very infectious music of New Orleans. Sic Alps and Purling Hiss provided some grit to the proceedings and their takes on raw Americana by way of Gibson Bros. (Sic Alps, featuring the return of Ty Segall) or in the red wah-wah torture of modern psychedelia, blasting holes in the surrounding courtyard (Purling Hiss, who opened the festival on Friday). Syl Johnson's gotten a third life as performer, and his bright scarlet suit was a bright visual counterpoint to the black-clad Sweet Divines, a dozen-strong outfit of brass, backing singers, and guitar/bass/keyboards.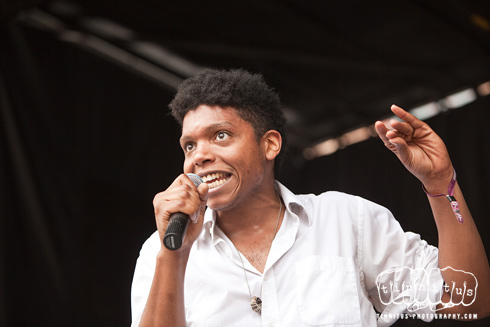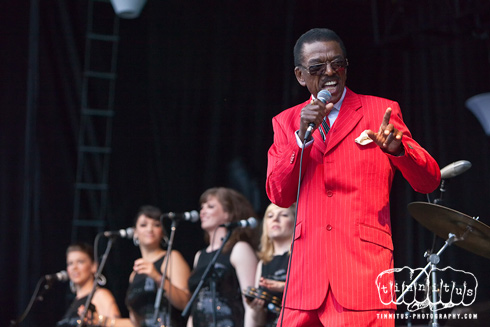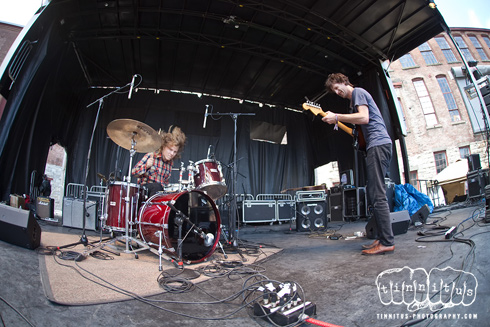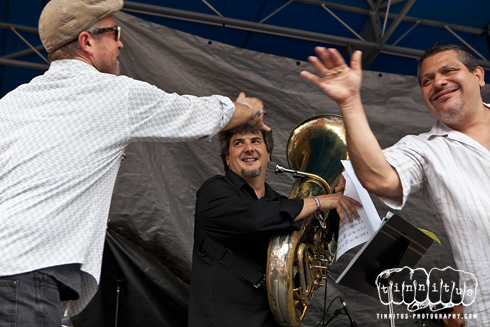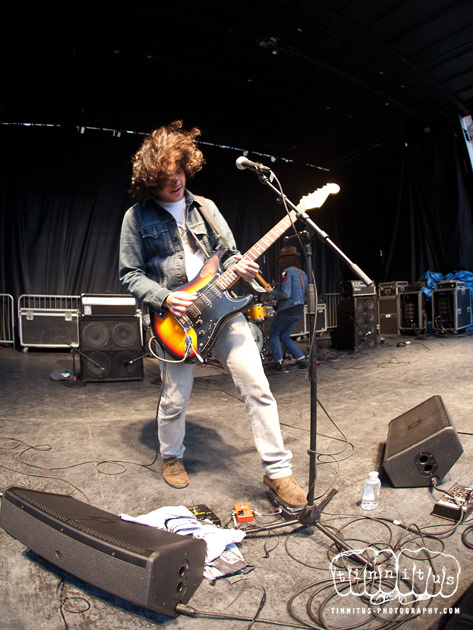 As was the case last year, the Wilco side projects were also out in force, and stylistically covered significant ground. Uptempo synth/pop (Pronto), improvisational jazz via solely a drum kit (Kotche) and the late afternoon summer sun glow of SoCal folk-rock (The Autumn Defense) were all part of the quilt, but the most interesting one was the re-visitation of a collaboration last seen over thirteen years ago.
Armed with two electric guitars, two amps, and a variety of objects (springs, broken drum sticks, and metal pieces were just some of the implements used), Cline and Moore demonstrated why they are considered titans of the free music scene. Judging a performance like this is difficult, and it's among the most subjective music around. There are no melody lines to hang on to, no choruses to snap to attention to, no words to help color the song. Instead it's two musicians continually bouncing ideas off of each other, high above the ground on six strings without the benefit of a safety net. Sixty minutes is a very long duration for an improvisational set, but a decent amount of people stuck it out to the very end, and the audience included free playing fans/musicians such as Kotche with his infant son, free drummer extraordinaire Chris Corsano and Gray.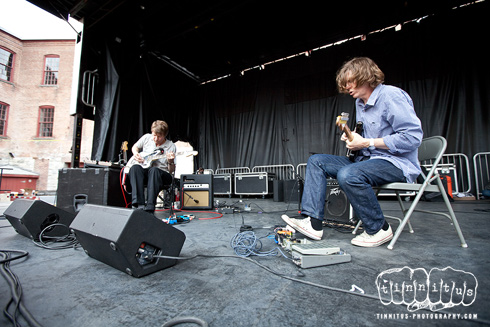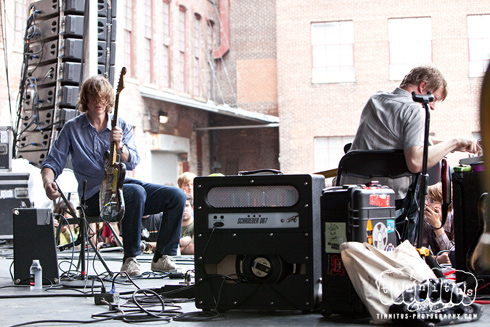 Levon Helm and his Rambling Band closed out the weekend, and the sun was actually throwing direct rays down to the hay-covered field. Classics from The Band such as "Ophelia" nestled easily with Helm's other material, and his band is really top-notch; hand Larry Campbell anything with strings on it and wait for the magic. Helm's vocal cords are permanently altered following throat cancer therapy, and his rasp was a bit unnerving to those who only remember his vocals as originally captured on recording tape, but as a time keeper and band leader he's among the best and was obviously enjoying it. It didn't take a soothsayer to figure out that eventually "The Weight" would be played, and that Wilco's members would be involved, and indeed just after a version of "I Shall Be Released" with everyone on stage, the festival closed out with that staple. Let's do this again next year, Wilco.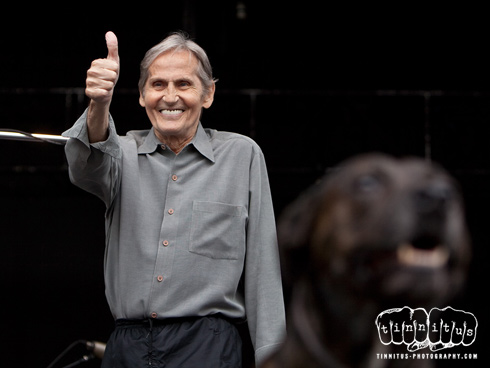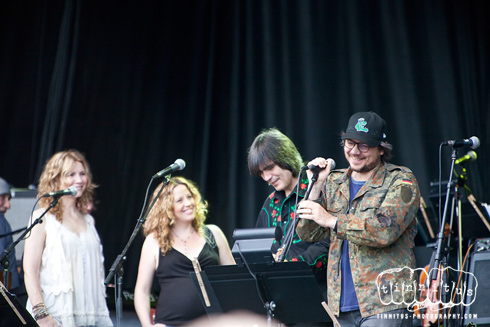 For a lot more photos from the weekend, you can check out shots from Day 1, Day 2, and Day 3 at my site.