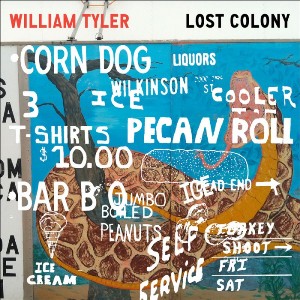 26 April 2014
"Whole New Dude" may be William Tyler's preferred title to Julian Jaynes' The Origin of Consciousness in the Breakdown of the Bicameral Mind. First occuring as an inside tour joke between Tyler and MC Taylor of Hiss Golden Messenger, the title/track is a reworking of "Man of Oran" orginally recorded by Tyler under his old moniker The Paper Hats. The recitation takes Tyler's Richard Thompson-esque six string wizardry into full band territory. The cut manages some Mark Knopfler/Chet Atkins vibes before Reece Lazarus (bass) and Jamin Orrall (drums) go motorik, proving the perfect place for Tyler to ram a cutting solo before he and the band go elsewhere.
"We Can't Go Home Again" revisits the cathedral drone of Tyler's recent release, Impossible Truth. While the track is nowhere new for Tyler, it's proof that no one does it better. The real highlight (besides "Whole New Dude") is a reading of Michael Rothers' (Neu!, Harmonia, Cluster, Kraftwerk) "Karussell." The return of the motorik touched on in "Whole New Dude" is welcomed and sounds to be a more than comfortable place for both Tyler and the band to perform. Could this be the debut of Kraut country?
Luke Schneider's pedal steel shines throughout Lost Colony, showing a solid foil for Tyler. Between Tyler and Schneider, Lost Colony manages to tap into that intoxicating East Nashville ardor, a place you never expect to find yourself, but once you're there, you never want to leave.