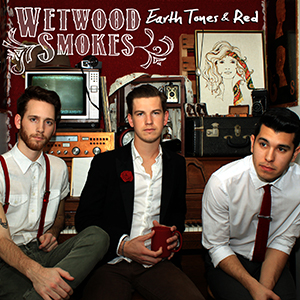 15 April 2014
Sometimes, you should never find out the influences of a band you really like—case in point, Johnny Marr's love of Celtic Folk bands. The same thing, it seems, has occurred with me and Wetwood Smokes, their influences being a cross between AWOLNATION and Mumford & Sons, and me being a fan of neither. The thing is, you should never trust influences, because often they get jumbled up in the artist's head, and what comes out sounding nothing like any of them to anyone except, perhaps, the artist. While Wetwood Smokes may be influenced by both of the aforementioned artists, the result of this is largely the creation of something fresh, and fun and of their own.
The band is releasing their debut album, Earth Tones & Red, and the entire seven song record is a thoroughly enjoyable experience. On many songs, they go for rousing anthems that certainly shows a hint of that Mumford influence, but they change it up from the vague, if slight and unintentional, Industrial qualities of "I Am The One" to the dissonance of "2AM in the Morning." There's a lot of elements in their sound typical to the genre, but they offset it with these stranger, unexpected touches that puts a unique spin on the sound.
There's definitely a suggestion that these songs are designed to be live—the kind of thing you want to hear in a crowd, inspiriting you to let it all go and dance along, but they do a fantastic job of recreating it for record with so much energy that it actually sounds like a live album. The opening track and leadoff single "Better Man" is the perfect example of this, replete with pounding drums, catchy guitar lines, and chant-able lyrics. The next song, "Madeline", throws a bit of a curve ball—it's keyboard-led and far more soulful than its predecessor—but it continues an idea generally held throughout the album of starting quietly and slowly before building into an uproarious blowout.
I noticed they have a habit of overzealous rhymes, particularly around the chorus ("If I could find a better man/I'd leave and not come back again", and "Mad-e-line/you cross the borderline"), but this is so much more of a guttural record with emphasis on the emotions wrought and how they affect you, that any of the more cerebral elements aren't nearly as important. It's an album meant to be felt.
The final song "Folks" sounds like the culmination of everything before, and in keeping with the idea that this sounds live, it's as if by now the band is sweat-soaked and tired, but have enough energy for just one more song. It's a perfect way to end the album, leaving you feeling as breathless as they sound. Earth Tones & Red will be released June, 10th.