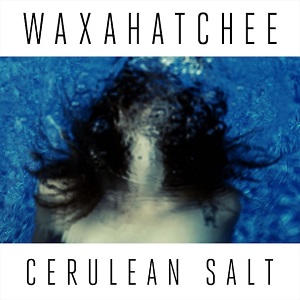 8 March 2013
Last summer, Waxahatchee's Katie Crutchfield did what she's done for most of her life, hit the road, and among the nowheretowns she played on this epic tour of America was my hometown of Helena, Montana. I wasn't there, but my sisters were, and if you have older siblings who taught you everything you know about music and the unquenchable mystique of being slightly (so much!) older than you are, then you know my thrill was, more than vicarious, one I could own. It's easy to convince yourself you have an intuitive sense of what everything might mean, where home and family is concerned. So, a block over from Mom's apartment, at the dive bar known as Jester's, gateway to the South Rodney Ghetto (of course, terms like "dive" and "ghetto" are only relative in a place like Helena), Crutchfield played her songs for almost no one, among them two Stuevens, once again trying to glean any possible art from a place that only offers it to those who look. Emily sets the scene: "Just her all alone, singing about whiskey and Sam Cooke songs. Fuck, I about died." Then, after the initial shock, "I wasn't bashful about getting up close to her, because her music was just so moving and I wanted to be closer to it." "It was as if she was singing just for us," Erika says.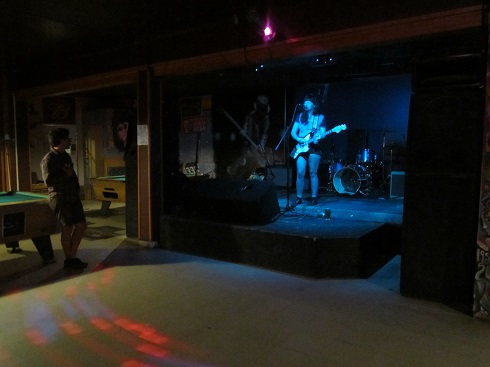 Empty bar, full heart. Photo by Emily Stueven.
Keywords like "intimate" and "personal" attach most easily to Crutchfield's songs, and yes, she writes astonishing things about romance and relationships, and relationships that continue long after the romance, but at the same time, she makes family music, for and about families. Unlike Frida Hyvönen or EMA's Erika Anderson, who've written some of the best songs about mothers and daughters in recent years, Crutchfield's not overwhelmed, or even much haunted, by lineage. She knows her life is an echo, but she's too candid, alive, to be always distracted by it. "We are only 30% dead and our parents go to bed early," she sings on the bleak, funny "Brother Bryan," backed by the heavy plunk of a few bass guitar notes. On the one hand, there's EMA's epic rumination on prairie life, "Grey Ship," and on the other, Waxahatchee's version of an ancestor song, "Rose, 1956" (from last year's American Weekend) which only looks back half a century, ends before the three-minute mark, and is full of poetry and wonder. Now, Crutchfield has moved a little further into the musical realm of EMA, with new songs that those who dare can carry internally and externally, music you can wear like a cool badge even as it speaks things you've never told anyone.
Cerulean Salt starts in small epochal mode. American Weekend was all acoustic guitar and snowfall-quiet voice, and while it lasted, it was impossible to imagine a recording with any greater fidelity to any busier source, so the new album's clean and cool "Hollow Bedroom," a sort of prelude, feels like a revelation. Again, it's just Crutchfield and a guitar, both elements much closer to the ear, and then, when a second guitar (!) comes in at the 45-second mark, playing rising chords, it's like you never knew that was possible. Of course, Crutchfield comes from rock music (her two previous bands, P.S. Eliot and The Ackleys, also included her twin sister Allison as a member), so it's not as if she ever failed to imagine the interplay of two guitars. Instead, what sounds like evolution on Cerulean Salt is just a songwriter thinking seriously about the narrative of her discography, about the best method for a sudden reveal of her music's submerged qualities. She knows that for the listener an album is its own world, and anything it excludes no longer exists. So then, when it brings in something different, it's as if the album created it. Cerulean Salt is an amazing half-hour of psychic creation.
There's more than that, drums even, courtesy of Crutchfield's boyfriend Keith Spencer, on loan from her sister's current band Swearin' (while her sister's boyfriend, Kyle Gilbride, also of Swearin', produces). It's that level of familiarity among the players that gives the album, still fairly limited in instrumentation, such a range of energy, feeling, loudness. "Coast to Coast" is the album's biggest rock song, with a wiggly guitar riff that makes it as outright fun as anything by The Breeders (and Crutchfield's voice, which can normally do anything she wants it to, survives under the delirious crush as a wise melodic smear, proving she can, on top of everything else, approximate Kim Deal). And yet, it's nearly the album's shortest song, a mere 1:46, folding quickly and neatly into the quieter "Tangled Envisioning," whose wide, silvery guitar recalls the original, Liz Phair's Exile In Guyville, "Explain It To Me" in particular (yes, Cerulean Salt is full of the music we listened to a long time ago, but none of it seems very immediate or important during the actual act of listening). It's one of many sonic dislocations on the album, whose transitions are as important as the songs themselves, none very long, each ending when there are no words left to say. It's a 32-minute suite, a collection of songs lacking the sturdy union of American Weekend (an album with a story, recorded over a week in January following an Alabama snowstorm), but all their variety and distance spliced into a single idea via careful, sometimes jarring, sequencing.
Back in Helena:
"She played "Bathtub," and I wanted to cry. Of course, I was just raw nerves at the time…"
My sister's eyes flood like rivers of wine in your absence.
Crutchfield writes lyrics so perfect and plain you can't believe no one's written them before, and then, because of that, the words renew your faith in people's ability to cut to the point and say new, meaningful things about being alive. From the song "Lively": "I had a dream last night we had hit separate bottoms." And the words are never self-conscious or vain, because you know she sees them in other people, too. Write about your own tears and risk being a boring songwriter; imply your sister's tears and begin to approach the divine.
Emily again: "So, I was just enchanted by her. One of the best shows I've seen. No joke. The kind where you feel like you've witnessed something secret and brilliant, and you'll be forever spending your life trying to convince people it was great, you had to be there." And I've written this partly in the hope that Crutchfield doesn't do the usual thing and use her increased visibility as an excuse to stop visiting the towns where the people who love her actually live. I don't fear it, because her music comes from small places.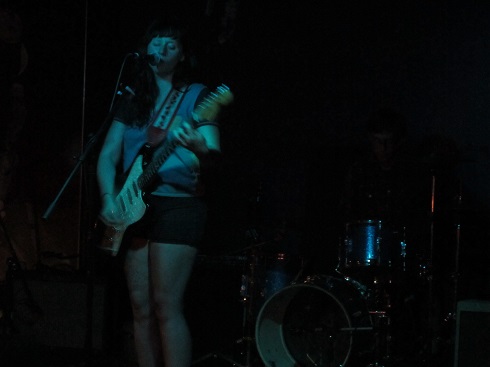 Cerulean Crutchfield. Photo by Emily Stueven.