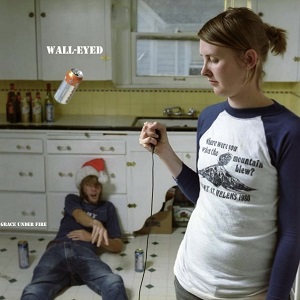 22 May 2014
Flagstaff, AZ isn't exactly known for its thriving music scene, though somehow DC transplants Wilson Getchell and Robert Keane have managed to make one all their own with Wall-Eyed, a quartet that combines '90s alternative rock with folk-rock Americana and Southwestern desert mystery for a unique sound that encapsulates the entirety of their vision.
The main thing that sticks out on Grace Under Fire is the heartfelt songwriting. Whether glibly describing being stuck next to an ungrateful tourist on an airplane in "French Guy" or laying all cards on the table in the name of love in "When You're Modest," Getchell's high-pitched rasp intones passionate sincerity. Despite the recurring theme of disappointment throughout the lyrics, the songs remain distinct, from the lounge-y flair of "Pint of Blood" to the reggae lilt of "18 Bad Decisions" and on to the final smash of "Insults and Polemics," which comes off as an odd mix of Gogol Bordello and The Pogues.
It's nice to hear something come out of Arizona that isn't completely derivative, but honest and forthright. Hopefully, the seed has been planted and we'll be hearing more from the state in the future.