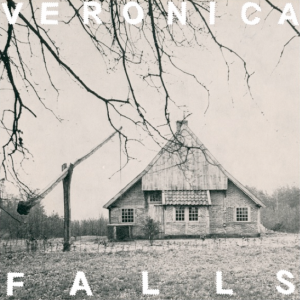 Following a new band through their early singles to their debut album is always going to result in certain vexations, but hopefully these will be tempered by the general satisfaction of a promise reaching completion (according to the convention that an LP is the proper, final test of a singles band). Veronica Falls complete their promise triumphantly with a new self-titled debut, but, to start with the attendant vexations, they boil down to a single question: "Stephen," "Stephen," wherefore art thou (this remodeled, reduced, less explosive) "Stephen"? (As these fanciful Brits might ask it.)
For those who missed it last year, "Stephen" was the instant pop smash with the unfortunate, accidental circumstance of being brought into the world as a B-side by an unknown band. The original version remains a giddy concoction, thumping bass and peeling, pealing guitar and Roxanne Clifford's warm chorus-unto-herself filling out the sonic space, and in their coiling union speaking a divine vote of confidence in the fallen comrade of the title. The new album version slows and hushes the unthinking euphoria so that you can hear the intention in every note trying to align itself against a reset metronome, in the band trying to hit every cue. It's the opposite "mistake," if you will (albeit a similarly minor and not very prevalent one) that the pop duo Tennis made earlier this year with their debut Cape Dory, which on a few key tracks applied a heavier, less flexible rhythmic insistence to songs of previous (on singles and demos) lightness and fragility.
But new "Stephen" is by no means bad, especially on its own terms. It even has the advantage of affording a view of how the guitars and voices interact, if your ears previously lost them to the blissful blend. Veronica Falls really value harmony and melodic interplay, in opposition to the straight depthless blasts of those who might be called their contemporaries for nothing more than a certain kind of classicism. "Stephen" has those things in ways we usually only dream of, and in this case flawless songwriting prevails, no matter its execution as song.
And, thankfully, the album contains nine all-new songs, so there are only three opportunities for such idle, distracting comparisons, the other two being former A-sides ("Beachy Head" and album opener "Found Love in a Graveyard") of renewed, not diminished, intensity. "Beachy Head," hot on the heels of "Stephen," and maybe only as a result of the contrast, seems to go even farther into the red than its single version, making it clear the band intends no mellow overhaul here, but does what they feel is right for each song. So let's ascribe the new form of "Stephen" to the unpredictable, unforgiving art of the perfect take. The 7-inch version was the final word on the song's freewheeling onrush, so rather than try to recreate something that's already left the studio, the band attempts to sneak up on the same feeling with a measure of caution.
In every other way, these must have been blistering sessions that produced this LP. A tense 4/4 and 2/4 hammering prevails—even the tamer songs keep a tight grip. Veronica Falls might get their musical ideas from the 1960s of Tommy James & The Shondells (whose crimson and clover dreams they share on somewhat epic album closer "Come On Over"), but they get their toughness from a different era, and in particular from the unrelenting rhythmic throb of the Pixies and the full-bodied melodies of Elastica and Echobelly. That would make them the British Dum Dum Girls?
Like that group's brilliant "Jail La La," Veronica Falls hit hardest when exploiting pop music's opportunities for ironic misrepresentation of lyrical subject matter, and have a particular knack for portraying misery as lightness, and love as danger. They're already masters of tone, that musical quality that approximates the literary one when it's placed in such clever contrast with the lyrics. The "misery as lightness" reversal is the whole point of "Bad Feeling" and "Misery," the latter so melodically bright, and yet such a hopeless romantic case, that it almost passes as a cover of the Lennon/McCartney song of the same name. Like the early Beatles, Veronica Falls will probably be mistaken for innocents, but you don't write a song with a title like that, and yet with harmonies like that, if you don't know something.
blog comments powered by

Disqus