11 December 2009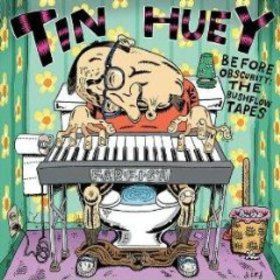 TIN HUEY is the redheaded stepchild of Akron's underground rock scene in the 70s, never achieving the major success of DEVO or even the notoriety of the RUBBER CITY REBELS. The band released an album on Warner Bros., the delightful Contents Dislodged During Shipment, but it predictably went nowhere and Tin Huey faded into obscurity. I say "predictably" because this was one defiantly odd band. Though embraced by a small contingent of progressive rock fans due to their musical complexity, the Hueys had little in common with the likes of YES or GENESIS. THE MOTHERS OF INVENTION are a much more appropriate touchstone, as are their Devolved homeboys, though even then Tin Huey's satire tended to be more playful than pointed. (Modern listeners might find common ground in the skewed riff pop of SKELETON KEY.)
Before Obscurity collects studio and live recordings made by the band prior to their major label debut. The band has done this once before, with 2004's Disinformation. Amazingly, there's little duplication amongst the three records; the Hueys were obviously prolific songwriters. (That's what happens when you have five tunesmiths in one band.) Unsurprisingly, given the sextet's ingenuity, it takes a few listens to fully appreciate its unique sensibilities. But once enough spins have spun, you'll need a fix on a regular basis. "Armadillo," "Right Now/Betty White," "The Farm" and "Pink Berets" (which would appear on Contents and explores gays in the military 25 years before it became a hot-button political issue) will scratch the quirk rock itch better than most contemporary bands.
This collection also ropes in a few tracks by RALPH CARNEY & FRIENDS, an ad-hoc collection of Hueys that prefigures his work with the art-damaged jazz pop act SWOLLEN MONKEYS, including a cool version of the band's "Closet Bears." One of the highlights is the brilliant "The Comb," which folds vocalist PATTY DONAHUE into the mix, thus making it essentially the first song by guitarist/songwriter CHRIS BUTLER's WAITRESSES. Closing out the set (not counting a quartet of low fidelity club recordings the band tacked on for completists) is a Hueyfied take on the Stooges' "I Wanna Be Your Dog" that actually reinterprets the song, rather than just runs through it – on IGGY's birthday, no less. All in all, Before Obscurity makes a good case for the injustice of the title's implication.
Butler and Donahue moved to New York with the Waitresses and found success with "I Know What Boys Like" and the theme song for the sitcom Square Pegs. After his work with the Swollen Monkeys, Carney went on to play with TOM WAITS.
http://www.tinhuey.com
http://www.smogveil.com
comments powered by