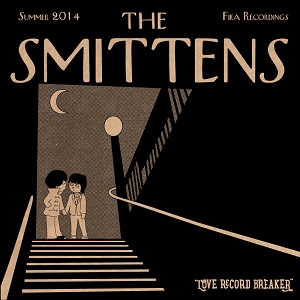 1 August 2014
Shortly after transitioning into a sextet with the addition of NYC soap maker/vocalist, Missy Bly, Burlington, VT's The Smittens deliver a powerful mini-album of dreamy pop with a dark sense of humor.
Immediately, Love Record Breaker opens with hook-laden '60s garage pop with the opening "Upper West Side," a sardonic take on hipster snobbery somewhere between The Association and Nuggets heroes, The Nightcrawlers, followed by the wispy ballad, "Pants On Fire," which recalls The Mama & the Papas in its vocal delivery. The Indigo Girls get a new wave makeover in the cover of 1989's "Closer To Fine," while the title track boasts a Go-Go's-like drive. "These Lips" begins as a cute love song, which quickly turns quite naughty, and "Almost" has that '80s English reggae feel. Finally, the Cure-via-Jesus and Mary Chain-ish "These Days" becomes a sexy italo disco track thanks to a remix from Swedish producer Johen Rafael Tilli of Death Team.
To pull off diversity in sound is a feat in itself, but to do so with a coherent sound is pure magic. Somehow, The Smittens do just that without any sign of strain. May they continue with equal exuberance.