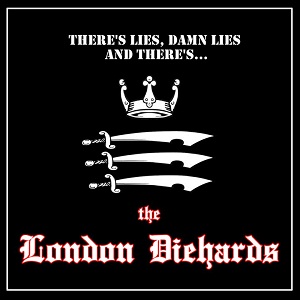 2 February 2012
I used to shun oi punk, thinking it was a genre packed full of lunkhead clichés. But thanks to the good folks at Rock 'N' Roll Disgrace, I've really opened my ears (and my mind) to this markedly British style of punk. So, after whetting my appetite with the strong Great Britain 7"EP (reviewed here), The London Diehards have delivered a full-length that displays their brute strength in all its boot-kicking glory.
Being a UK oi band, The London Diehards are skinheads, though not Nazis by any stretch of the imagination. It's true that their politics tend to fall more in line with right wing working class philosophies, but there's nothing wrong with that – we're all entitled to our own opinions anyway, and maybe we could all stand to listen to what others with differing points of view have to say rather than locking ourselves away in paper towers of self-righteousness. It's far more liberating to be a fan of both Crass and Skrewdriver than to only listen to what fits into your own narrow-minded point of view. Just saying. Anyway…
There's Lies… follows up on what Great Britain anticipated, i.e., tough songs about friendship, booze and standing up for one's self against criminals and the status quo. In fact, two tracks from the EP show up here ("PC Mafia" and "One Way of Life"), where they fit right in among the football chant choruses, catchy riffs and street-wise attitude of the other songs. "Ruck & Roll" is total Motörhead worship, while the following "Outcasts" is melodic skinhead oi punk at its best. And so, the LP continues in this non-compromising fashion; take it for what it is because there are no apologies and the blows will not be softened.
Next time you want to go down to the local bar, but you don't have enough money, or you have the money but you don't want to sit in a room full of hipsters listening to Pitchfork's latest favorites, throw this album on and grab a beer. It's a good drinking buddy.