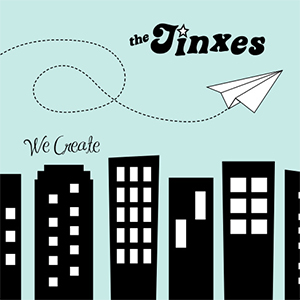 14 March 2014
The Jinxes are a folk pop duo from Monterey Bay, comprised of Kevin Smith and Deanna Ross. They have just released a new EP entitled We Create which, in fact, was created partially through crowd funding. While I may occasionally grow cynical at such ventures funded with the aide of sites like Kickstarter, We Create is a perfect testament of what can be accomplished with the right sort. The EP is exactly what its title suggests: a charming, unassuming collection of homespun recordings by a couple with a chemistry unmistakable.
The instrumentation is often spare, the guitars generally leaning towards the acoustic, but all this space allows the pair's beautiful harmonies, as on "My Butterfly", to truly shine and fill in the gaps. The title track, "We Create," is the perfect example of this. The vocals and harmonies are gorgeous, as well are its lyrics, but the instrumentation is extremely minimal, including some really interesting use of percussion, allowing everything truly important to come to the forefront.
Other songs here, like "Can You Hear It Ring?" are lusher, complete with strings, obviously designed to incite empowerment, but the music here is so unaffected and genuine they pull off every single moment perfectly. The EP will be released on April 2nd, only two weeks before the pair's own wedding.