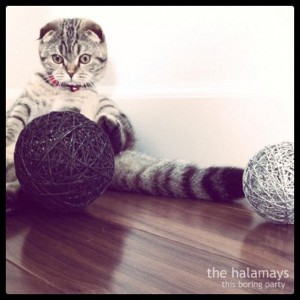 24 August 2011
Ostensibly, it's just another "summer fun" record— ping-pong pop with the obligatory girl/boy vox and clap-along synth hooks. But after a few listens, a sneaking suspicion emerges that Chicago husband/wife duo Katie & Pat Watkins (aka The Halamays) are toying with this formula for slightly darker purposes; not unlike the kitten on their album cover with his ball of string.
Make no mistake, the Halamays are not Steve Albini's sort of Chicago band, and the somewhat unfashionable cuteness of "This Boring Party" would likely reek of Carebear-ism to the North Shore's grizzled standard bearers at Drag City or Thrill Jockey. But then again, it was Chicago's Minty Fresh label that once gave us the sugary sweet indie-pop of Papas Fritas— the sophisticated but refreshingly unpretentious '90s band that may be the Halamays closest evolutionary cousins (albeit with far less of the latter's Logic-induced bloops and whooshes).
Like the Fritas' Shivika Asthana-- or maybe more obviously Juliana Hatfield or Jenny Lewis-- Katie Watkins has a charmingly girlish but confident vocal delivery and a spunky energy that twirls off the record. You can practically hear her hopping up and down on the EP's bubblegum tracks, "Sun Goes Down" and "This Boring Party." But as those song titles indicate, there appears to be a little incongruity between the fluffiness of these tunes and the cynicism of its singers. "Why can't we go back to the way things were?" Katie pines before negotiating the joyous chorus of "Sun Goes Down." Meanwhile, the title track reads like the flip-side of Prince's "1999." "Would it be rude to just walk out and leave?" Katie asks, as she and her husband—married and closing in on 30—find themselves increasingly out of place at the "place to be."
By the time the EP's closing track— the legitimately haunting Pat-voiced ballad "Whispers"—comes along, the jig is finally up. This might be a summer fun album, sure. But it also might be the last summer ever for mankind as we know it, so choose your parties wisely.