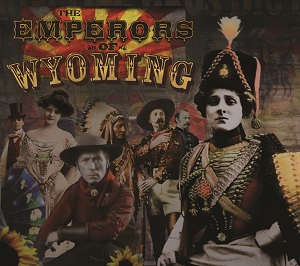 29 May 2014
Comprised of famed producer Butch Vig and Phil Davis from Fire Town and brothers Frank and Pete Anderson from Call Me Bwana, The Emperors of Wyoming finally release their debut album domestically with three tracks not on the original UK release.
The Emperors of Wyoming conjures the long, lonely, dusty roads of late-night drives, miles of Middle American highway traversed out of necessity or boredom. By blending country flavors with '90s-tinged rock elements, these four old friends have created a mesmerizing alt-country album that should appeal to fans on both sides of the spectrum. Davis' voice is part Neil Young strength and Bob Dylan pain, his lyrics honest confessions from life, stories that can only be told by one who's been there. Between humbly pleading for love in "I'm Your Man," updating the traditional Wisconsin folk song "My Sweet Pinery Boy" or reinventing The Afghan Whigs' "Rebirth Of The Cool," Davis and his fellow Emperors deliver a strong album full of passion, heart and honesty, and who would dare ask for more?
Though the label "alt-country" is often over-used and misplaced, it truly fits here, where country's raw emotion and alternative rock's soothing melodies collide and form something else. Hopefully, there is more to come because there is magic here.