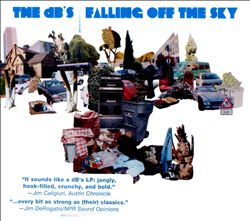 9 June 2012
The first truly new dB's record since 1987's The Sound of Music (1994's Paris Avenue was a collection of demos from the late '80s) and the first with Chris Stamey since 1982's career-zenith Repercussion, this is also easily their best record since 1984's Like This or perhaps even Repercussion itself. Though it's not perfect (Stamey's songs generally outclass fellow singer/songwriter Peter Holsapple's, for starters), the highlights here are many starting with the opening 1-2 punch of Holsapple's rollicking, almost garage-y opener "That Time is Gone" going into Stamey's typically sweet and tender "Before We Were Born" (one of the best songs here).
From there, the gems just keep on coming. Included among them is the first Will Rigby-penned song ever on a dB's record ("Write Back"). It would've fit in snugly on his 2002 solo album Paradoxaholic. It's also a rare Rigby lead vocal on a dB's album as the only other one I can think of is "White Train", the closing track on the aforementioned Like This. Also included is "World to Cry", a song that was given away by the band as an mp3 back in 2005 when they first got back together (the album had been in the works since then), and one of Holsapple's stronger numbers here. The album saves its very best for the last few songs, though, as Stamey's interestingly-titled "Collide-oOo-Scope" (with its reference to '70s country-rock duo Delaney and Bonnie and The Move's classic UK #3 hit single "Fire Brigade" sung in Stamey's still wonderfully still boy-like and Alex Chilton-like voice) and Holsapple's moving "She Won't Drive in the Rain Anymore" end the album on a huge high note before going into the finale title track.
While I'm just glad that they finished this album, the high quality here and their continued abilities as a great live band makes me long for not only a Philadelphia tour date (to go with the 3 excellent New York area shows I saw between 2005 and 2007), but perhaps for another new record at some point in the future. Given how long it took them to finish this and that they have all have other commitments, I wouldn't count on it, but one can hope!