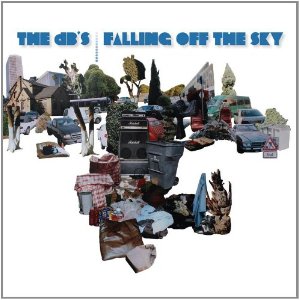 7 June 2012
The original lineup of the dB's (Peter Holsapple, Chris Stamey, Will Rigby, Gene Holder) reformed to low-key fanfare a few years ago with promises of a new LP. That possibility seemed less and less likely as time dragged on, but lo and behold, here it is. So is Falling Off the Sky worth the wait? Abso-friggin'-lutely. The band play with a balance of skill and taste that makes every song sound both carefully considered and spontaneous. Judicious use of horns and strings adds texture, but the focus is on the interplay of Stamey and Holsapple's wiry, melodic guitar work and Rigby's imaginative drumming. The sensual punch of the music itself is enough to grab and hold your ears.
But a great dB's record, like any strong LP from anyone, is about songs, and Falling Off the Sky is jam-packed with good ones. From pop gems ("Before We Were Born," "World to Cry") and rootsy rockers ("The Wonder of Love," "That Time is Gone") to emotional folk rock ("I Didn't Mean to Say That," "She Won't Drive in the Rain Anymore") and psychedelic pop ("Collide – oOo – Scope," "The Adventures of Albatross and Doggerel"), songwriters Holsapple and Stamey bring plenty of finely-crafted tunes to the table. Rigby also contributes a cut, and the witty, simply performed "Write Back" fits right alongside the tracks by the more celebrated tunesmiths. Everybody involved brings out the best in themselves and each other, and it shows.
Nearly 30 years on, the dB's have naturally acquired a great deal of experience and craftspersonship (not that they didn't have the latter on their 1981 debut Stands For Decibels). But now they've combined their powers with the enthusiasm of rediscovery – that vibe you feel running through Falling Off the Sky is that of bandmembers reveling in the thrill of making music together.
http://www.thedbs.com
http://www.bar-none.com