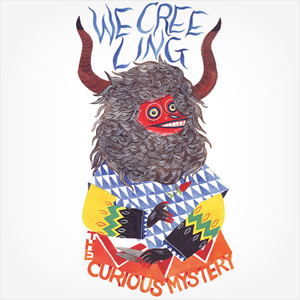 1 February 2011
The second release by fuzzy Olympia based K recs group The Curious Mystery slides out the gate with a slow, dark majesty. Adorned with sitars, mellotrons and hissy analog recording artifacts (something I LOVE about the K Recs/Dub Narcotic sound) you may think this album is a sort of neo-psychedelic throwback. In truth, it's a far more constructed, scripted album than what I would associate with many delay-wanking "psych" bands. The songs evoke the drug state merely by taking slow careful steps down the vibrant path of vision. There is such ear pleasing harmony to be found in the vocal pairing of Shana Cleveland with Nicolas Gonzalez, plus some help from K recs stalwart Karl Blau. Every line of song is delivered succinctly and carefully (or with a measured carelessness). The languid pace and understated production belie how complex the instrumentation is developed on every song, a constellation of instruments and timbres all moving together in some sort of near shambolic, cosmic elegy.
This truly sublime recording draws together the post-psych sound of Paisley Underground bands like Rain Parade and Opal and stitches them with the compositional and modal complexity of 70s prog. This is evident on tracks like "Taste It" which even cops a few bars directly from Islands -era King Crimson . To me there could be no better marriage of styles than this. It's a dense record that still affords the listener a developing, easy pace, time enough to absorb the kaleidoscopic instrumentation and myriad time changes.
What pervades the recording is the sense of timelessness, like this album could have been recorded any time between 1968 and today. But deeper hearing, such as the pentatonic balafon breakdown, hand claps, and heavy 'verb vocals on "Blue Limits" situate We Creeling as contemporary. In the "post everything" era, it is no small feat to construct a visionary album free from a primary idiom, yet somehow painting with many idiomatic brushes. It's an exciting time in music.. a time where the crumbling industry is breaking down to reveal the glistening new creative skin beneath, in the underground. The Curious Mystery exemplifies the ability to craft shiny new dreams from old, on a budget that Pink Floyd probably spent on pizza on a given day of recording. With the majestic We Creeling , they offer us these shiny new dreams with apparent and infectious joy. A deceptively complex yet easily digestible album that reveals itself more upon every repeated listen.
comments powered by