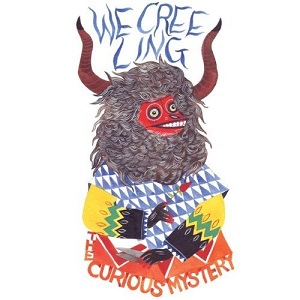 30 May 2011
I feel like I dropped acid circa 1968 and stumbled Peter Fonda-style into a tiny, smoke-filled club where some random band took hold of my trip and gently guided it through avenues of mind expansion I never thought possible. In other words, We Creeling is quite possibly the best true psychedelic album recorded since maybe 1972.
Now, this isn't the psychedelia of the numerous Nuggets garage bands – this is the deep, heavy psych of the Psychedelic Salvage Company volumes, i.e., The Roland Kovac Set, Ptolomy Psychon and Team Dokus. There's also quite a bit of Jefferson Airplane's dark opus, After Bathing at Baxter's, running through the album, especially in the male/female vocal interplay of Shana Cleveland and Nicolas Gonzales and the stark production quality. And I may be hallucinating, but I also detect a bit of Come as well, both in the vocal interplay and some of the guitar passages, both elements merging most ditinctly in "Space Shuffle" and "PB&J." Perhaps a bit of Forever Changes Love in there as well, as in "Cool Kids in the Valley."
That's not to day that We Creeling is some throwback to smelly hippies and flower power, however. Rather, this is an album that looks to the future as much as it recognizes the past, a beautiful work of art that stands on its own merits for its own sake.
It's extremely difficult to record this type of music an actually get it right. Somehow, The Curious Mystery has accomplished just that, perhaps lending credence to their name.