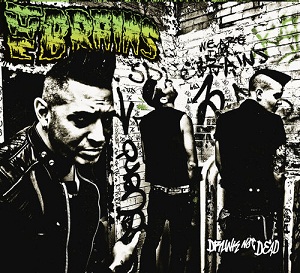 11 January 2012
I'm really not into the rockabilly revival thing. Honestly, I find it as distasteful as bands wearing Nehru jackets, shag haircuts and refusing to play on anything but vintage equipment. It's 2012. That's all been done; do something else. Why would I listen to an imitation when I can listen to the real thing, i.e., Gene Vincent or any of the Nuggets bands? Typically, the bands who use the genre to their advantage, rather than getting caught up in the schtick are the ones that stand out. LA's X and NYC's Speedball Baby both combined rockabilly with other genres to create something unique, while The Candy Snatchers and Dead Kennedys applied the genre's sensibilities to their particular brands of punk rock.
I think that's why I like this CD so much. Rather than pigeonhole themselves with boring clichés, Canada's Brains are more a punk rock band with a rockabilly edge. The songs are not so much played as attacked with the fervor and exactitude of Motörhead. "We Are the Brains," "Oh Murder" and "High on Speed" blaze like the fastest Turbo A.C.'s tracks, while "Take What I Want (Souvenir of Monte Christo)" and "I'm Your Nightmare" have definite shades of The Damned. Most impressively, guitarist/vocalist Rene de la Muerte appears to be multilingual, performing "Gato Calavera" in Spanish and "Pourquoi Me Laisser" in French – something you don't hear every day in punk rock for sure.
So when you're out cruising for music and everything sounds really boring, pick this up because it's anything but boring. Then pick up some beer, your girl and maybe a few friends and have yourself a damn good party because it's your days off and you deserve it.