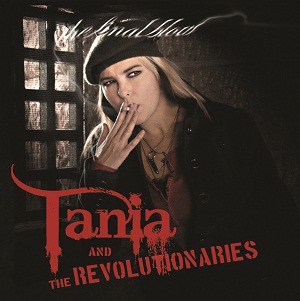 20 September 2011
Streetwise New York songstress Lani Ford has lain her hard rock band Stark to rest and reemerged with a new sound, a new look and new songs that focus on her quiet side while retaining the intense personality that always shone through her music.
Joined by a slew of underground NY musicians, including people who have shared the stage with Ford in Stark, i.e., Joe Hogan and Josette, Tania and the Revolutionaries take a dark acoustic approach rooted in folk, country/western and delta blues, a sound they aptly describe as "goth Americana." Instead of loud guitars and thundering drums, Ford uses rhythmic melodies and gospel-like harmonies to tell her brutally honest tales of New York City life. Flutes, violas and jug-band percussion weave through the songs, adding whimsical fancy or morose drones as compliments to the tones set by the vocals.
As usual, Ford's lyrics are extremely personal, sometimes uncomfortably so, forcing the listener to deal with the harsh realities portrayed in her words. Several of the songs – the opening "Again and Again," "Pity the Fool," "Only Lonely One" and the title track – deal with the teeth-gnashing, fist-clenching angst that accompanies a bad breakup. "Depression" takes it one step further, the angst becoming all-consuming, self-destructive pain. On a lighter note, "Sleep a Wink" describes the endless nights looking out the window when fraught with incurable insomnia. "Party Girls" lashes out at the famous-for-nothing reality TV "stars" that consistently inundate the media. In "Blind Date," Ford turns the tables, becoming the uncaring, abusive male who leads on the drunken girlfriend who so desperately craves his affection.
The Final Blow is an album for people who appreciate honesty in their music. In stark contrast to the smarmy hipster tongue-in-cheek of, say, The Black Heart Procession, this is the real thing. It's not always pleasant or pretty, but it's the truth. Who can ask for more?