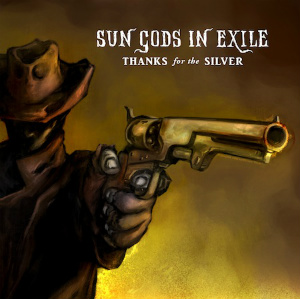 27 March 2012
One of the odder phenomena in the underground rock scene in the past decade has been the rise of Southern rock bands that aren't from the South. Pennsylvania's Raging Slab kicked this undercurrent off, while Detroit label Small Stone has stoked the flames ever since. (Cf. New York's Brought Low, Boston's Antler, Jersey's Halfway to Gone, Ohio's Five Horse Johnson.) In a way it's the same aesthetic as the blues – you don't have to be a black sharecropper to play it, arguments over authenticity aside. Ultimately, regional origin matters less than artistic intent.
In that light, the boys in Sun Gods in Exile – who hail from Portland, Maine, i.e. as far away from the South as you can get and not be in Canada – ride the groove like they're black (that's Black Oak Arkansas, Blackfoot and the Black Crowes) through and through. On Thanks for the Silver, the band's second LP, the guitars of Tony D'agostino and Adam Hitchcock burn and sweat, riffs outnumbering solos and the blues just next door. Bassist John Lennon (not that one) and drummer John Kennedy swing as much as they stomp, and utility man Chris Neal fills in the holes with keys, slide and harp. Hitchcock's rough-and-ready larynx boasts a suppleness that allows him to sing as much as growl.
Best of all, the band is more about songs than solos. The skillet-fried boogie of "Nobody Knows," the bluesy anthemry of "Climb Down" and the lighter-waving balladry of the title track don't come off as set-ups for harmony guitar wank – these tracks prefer to hit hard, leave a mark and saunter away. Hitchcock wears his heart on his sleeve next to his tattoos, making "Hammer Down" and "Writing's On the Wall" more than just bruisers and even a song entitled "I Buried My Bitch's Car" much more than just a cheap shot. Put more simply,Thanks for the Silver is not victory of style over substance, but an example of a regional style successfully appropriated by an artist that needs it get its vision across properly. Or it's just a bloody good rock & roll record. Either way is cool.
comments powered by