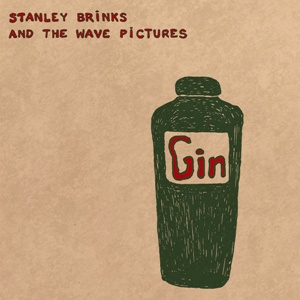 11 February 2014
Stanley Brinks (of Herman Dune) once agan joins his old pals, The Wave Pictures, for a booze inspired LP entitled, Gin. It's a fitting title for an album brimming with snickered lyrics and tipsy melodies. Of the three albums credited to Brinks and The Wave Pictures, Gin quickly sets itself apart by sounding both tart and immediate. That probably had something to do with Brinks forgetting to send out demos before recording and maybe alcohol playing a small supporting role as well. All that being said, nothing here is detrimental to Brinks' keen observations, nor to The Wave Pictures' ability to steadily deliver. In fact, it adds some vigor to the established collaboration.
On opener, "One Minute of Darkness," brooding verses hinge on David Tattersall's trademarked solos with Brinks, at one point characteristically singing, "You're gonna find yourself cooking just for practice and wishing for one minute of darkness." "Max in the Elevator" expertly matches a familiar Wave Pictures arrangement to Brinks' roaming lyrics with just enough looseness for him to effectively admit lines like, "These 40 years have been hectic, but I've always been a skeptic." The record ends with the effortless "Not to Kiss You," which is sobering and plainspoken compared to the rest of the album. The song concludes with Brinks confessing the lines, "My heart is a keel that a boulder slips through/You know it's hard for me not to kiss you."
Gin plays like any good night out. It starts out a little sauced, gets a little wild, divulges some deep thoughts, and ends up so mashed that things actually make more sense at the end than maybe they did in the beginning.