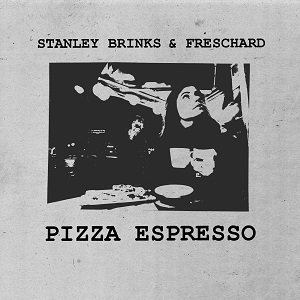 24 July 2014
With numerous albums under his belt, underground folk singer, Stanley Brinks, collaborates with his old pal, French solo singer-songwriter Freschard, for a dull collection of duets that stands out as a low point in their respective careers.
Listening to Pizza Espresso is as exciting as watching James Taylor tune and as soulful as The Captain and Tennille. Songs about drinking and forlorn love are usually subjects to get behind, so what gives? Well, the songs all pretty much sound the same, with some slight variations in tempo. Even the numerous electric guitar accents throughout the songs sound like the same note over and over again. As for the love aspect, saccharine has been known to cause cancer in lab rats. It's a disappointing departure from the duo's previous effort, 2011's New Cologne (B.Y), an innovative collection of songs full of energy and personality. Unfortunately, the enthusiasm failed to continue through their second release, making Pizza Espresso so boring, it would put coffee house patrons to sleep.
All musicians have periods where their output slacks a bit. Hopefully, this was just a place where the muses did not shine and the alcohol only inspired lethargy. May Stanley Brinks and Freschard strike back tenfold.