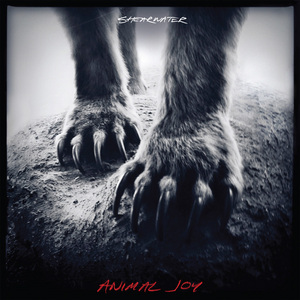 Animal Joy, the eighth album by Austin-based Shearwater—and first for venerable label Sub Pop—has been described as a rock record, a break from the haunting, somewhat solemn, country-tinged chamber-pop style that proved so satisfying on The Golden Archipelago and Palo Santo, and that's somewhat true. It's especially true on the opening number, "Animal Life," which starts off with a Peter Hook style bass line, and builds up into an explosive, driving rock number. It's amazing, too, to hear the gentle, angelic voice of Jonathan Meiburg suddenly turn arena rock, but that's exactly what happens. His voice, a cross between Antony Hegarty and Mark Hollis, normally wouldn't make you think of Bono or Bruce Springsteen, but here it does. Same for "Pushing the River," which finds him pushing his voice over a frantic, driving melody that makes you think that this is what Talk Talk would sound like had they not driven into jazz experimentation. (That comparison is more than apt; "Open Your Houses" and "Believing Makes it Easy" both sound like outtakes from The Colour of Spring.)
But I hesitate to say that this new sound is a change inasmuch as it is a refinement. Moments of downbeat, rainy-day regret, such as "Run the Banner Down" and "Dread Sovereign," do recall earlier Shearwater. Despite the momentary jolt of hearing Shearwater "rock" more, Animal Joy really isn't that much of a departure. Some may miss the sound of the more melancholy Meiberg, but it shouldn't be something to fret over; Animal Joy is a fine record from a band that's yet to stop growing and maturing.
Animal Joy is certainly a rougher, rockier beast when compared to Winged Life, Shearwater's third album, which is being simultaneously reissued on vinyl. Released in 2004, this record was rightfully well-received, and served as a proper introduction to the world outside of Austin. Shearwater was still considered to be a side project to Okkervil River, as Will Sheff was a regular collaborator. Listening to it nearly a decade later, one hears hints of what would come next; "A Hush" and "The Kind" would foreshadow the work found on The Golden Archipelago and The Snow Leopard, whereas the 10cc styling of "(I've Got A) Right to Cry" shows the pop leanings. It's an interesting contrast; the mature band of Animal Joy certainly wouldn't embarrass their younger selves.
blog comments powered by

Disqus