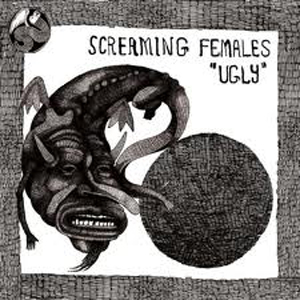 When I first saw Screaming Females open for the late Jay Reatard at Johnny Brenda's back in 2009, they absolutely blew me away. Who was this diminutive (4'10") singer/guitarist (Marissa Paternoster) who managed to play thick, chunky, almost metal-like riffs (ala Greg Sage or J Mascis) topped off with her Corin Tucker-like vocals while soloing like Eddie Van Halen when the mood struck her (but never overindulging) and who was her skilled backing band consisting of just bassist King Mike and drummer Jarett Dougherty, both seemingly locked in to a default setting of Is This Real?-era Wipers gone '70s hard rock? It turns out that they'd already been on the scene in my old stomping grounds of New Brunswick, NJ for several years at that point, but their profile has grown rapidly since then to the point where this new album is being reviewed in Spin and was named album of the week on the popular and influential Stereogum blog. Let's back up a few years, though.
Eager to recreate the live experience, I purchased their then most recent album Power Move after their set that night I first saw them and when I played it, I was a bit disappointed. It was fine, but seemed to lack the live energy and drive that they mustered on stage. I was then left wondering if any recording of theirs could capture their live sound. My doubts were erased with 2010's Castle Talk, a stomper of a record that included now classics like "Laura and Marty" and "A New Kid" and was their best work to date. Finally, it seemed like they got the sound they were looking for in the studio. Thus, the anticipation was high for Ugly. Thankfully, it doesn't disappoint. Recording at Steve Albini's Electrical Audio studio, Albini's unusual (for him) hands-off approach pays huge dividends here. This feels like a natural progression from Castle Talk and is the band's best album to date.
I wasn't too keen on opener "It All Means Nothing" when I first heard it as the A-side of their "Record Store Tour" single, but in the context of album opener, it works really well here. The record only gets better (and darker; just check out the song titles) from there with songs like "Rotten Apple," "Extinction," "Red Hand" and the 7 minute plus epic "Doom 84" standing out as highlights. Still, there's nary a weak track in the bunch here and the album ends on an almost, peaceful, meditative note with the string-laden "It's Nice", a total 180 degree turn from the rest of the album (and their discography up to this point). It could've fit in nicely on Paternoster's Noun project as well. Perhaps it's a sign of their future direction or just an outlier (more likely), but either way I'll take it.
blog comments powered by

Disqus