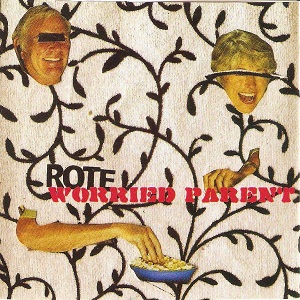 3 March 2012
Somewhere in Chicago, an angry man is venting his frustrations into a Zoom hand recorder. His name is Marc Mozga and he records as Rote.
After the excellent dub/trip-hop duo I Luv Luv Birds fell apart, Marc formed this one-man band, a much more punk rock venture consisting of guitar, programmed drums and David Yow-ish vocals delivering poetic diatribes of discontent. The result is a chilling blend of Big Black and Jandek, with a bit of the psychotic twang of Speedball Baby, i.e. songs that are uncomfortably honest, but extremely unique in their vision.
Worried Parent opens with the brash "It's the Cracked Ones Who Let Light into This World," a loud punk stomper that insists, "My kids gotta (sic) voice!" The garage-y "Halloween Night '38" follows, attacking the blockbuster schlock Hollywood delivers year after year. "My Kid," however, is a haunting blues track that sneers at the lazy, self-entitled youth that seem to be so rampant these days. "Internet Era Moms" attacks the self-absorbed soccer mom contingent who encourage their children to play video games so they can be left alone to talk to their friends on the phone all day, and hipsters catch the brunt of Marc's ferocity in "Let the 80's Die" and "Zombies Are Taking Over the World."
Brutal honesty is never easy to hear, but it's always necessary. If it takes one man with a vision to make the statement, so be it. The world is better for it.