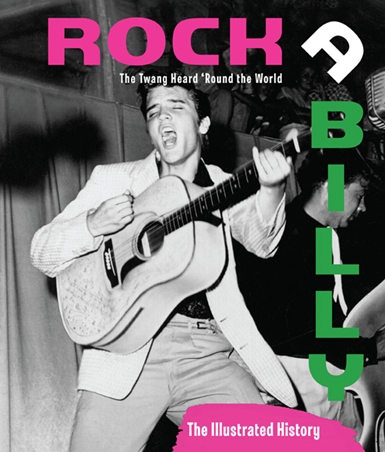 9 May 2011
Q- "Was the term rockabilly derogatory, a negative connotation?"
A- "You ain't shitting. It's negative down there, as negative as you can get… and every preacher in the world was on your case, just playing that devil's music." – Ronnie Hawkins
In the pantheon of the origins of rock n roll, Rockabilly was always the poor white boy brother to the more ethnically based rhythm and blues. The genre orientated more to the country side as rock n roll eventually settled in the blues based 1-4-5 world.
So, while rock n roll became the juggernaut, rockabilly inhabits the fringe areas as "outlaw" music.
One might say the blues basis was steeped in noble suffering, carried on through the slave era; while rockabilly was wild eyed, unapologetic and glorifying sin and rebellion. Fast, loose and outta control. While the blues originators were toiling in the fields, the rockabilly cats were making moonshine and outrunning the feds.
It's easy to forget that the founding fathers of what is known as rock n roll were also the founding fathers of rockabilly, Elvis Presley's first recordings with Sun Records were the building blocks of rockabilly as well. Johnny Cash, Eddie Cochran, Jerry Lee Lewis, Carl Perkins were all the forefathers of rockabilly.
Rockabilly: The Twang Hear 'Round The World is an indispensible history of the genre. Hardbound and lavishly illustrated (the front cover is die cut and modeled after Elvis's first album); this coffee table book is a comprehensive look at the practioners, instruments and memorabilia of the genre. In-depth articles date back to the origins (according to the book- it's birth was on July 5th, 1954; when Elvis and his band recorded "That's All Right Mama") though it's late 70's/early 80's rebirth with The Cramps, Stray Cats and Robert Gordon; and up to today with performers like the Reverend Horton Heat.
The book is loaded with features written by many of the key figures in the music… from performers such as Tav Falco (Panther Burns) and Robert Gordon to more scholarly approaches from writers such as Greil Marcus.
Rockabilly: The Twang Hear 'Round The World is loud, brash and full of attitude. Just like the music itself.
The book succeeds on all fronts… it's highly informative and a lot of fun to read.
Highly recommended.