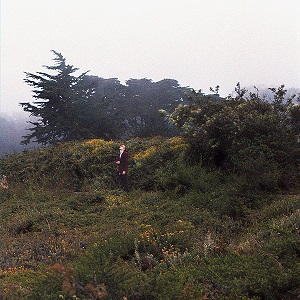 17 June 2014
Previously one half of Oakland lo-fi industrial duo, Primary Colors, San Francisco artist, Michael Wood, releases his debut solo album, a continuation of his budget wave electronic signature.
Recorded with vintage synthesizers to reel-to-reel, Pattern Completion recalls the dark early industrial of Sheffield bands like Human League, Clock DVA and especially Cabaret Voltaire. Driving drum machines propel squelching, arpeggiated synths, with Wood's voice a distant monotone reminiscent of CV's Stephen Mallinder and CD's Adi Newton, with a touch of Bauhaus' Peter Murphy. "Skyline," a particularly successful instrumental, takes the sound further, adding a stark immediacy found in John Carpenter's soundtracks. It's a fascinating collection of songs that perfectly embodies cyberpunk retro-futurism.
While plenty of people noodle on synthesizers and record to 4-tracks, REDREDRED stands out with exemplary songwriting marked by an authentic passion for the music being laid to tape. As far as debut albums so, this one is spot on, every song a captivating soundscape of hypnotic beats and fuzzy electronics. The followup can't come soon enough.
comments powered by