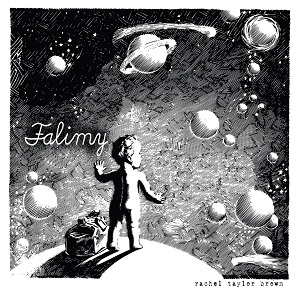 23 May 2014
On her ninth studio album and seventh recorded by Jeff Stuart Saltzman, Portland, OR's Rachel Taylor Brown explores the meaning of "family," from a strict nuclear meaning to a broader sense relating to community, religion and duty. As a result, Falimy is a brilliant collection of songs ranging from bombast to quiet beauty and filled with laughter and sadness.
"We'll Have A" kicks things off with a bit of Kinks-y pop that quickly transforms into heavy John Lennon gospel soul with Brown belting her refrain with an unexpected power and fury, a fitting soundtrack to lyrics about a confused couple whose doomed outlook on life leads them to childbearing because they don't know what else to do. "Mt. Athos," which perfectly blends a bit of power pop with Andrew Lloyd Weber exuberance, deals with men striving for God, but failing because carnal pursuits lead them astray. Things quiet down with "Robin," an examination of familial pain full of multilayered subtext, and the absolutely chilling "Trade," the story of a carpenter who saved a girl on fire, losing the use of his hands in the process, yet finding solace in the fact that she is still alive. A bit more Kinks comes out in "Little Fucker," a song about that friend or relative who can't help but spread pestilence in their wake, which is then answered by the perpetrator in the Bowie-ish "Me Hurting You." "Litany of the Family" is a Fugs-y hymn describing pictures from a family photo album and "Family" sounds like Ray Davies having a nightmare, though the finalizing trio of "Men At War," "(bird)" and "One Brave Soul" fit in with Arthur-era Davies. It's an emotional journey through lives we've all lived and witnessed, a celebration of the failure and resilience of humanity as we struggle for meaning on our little dot in the universe.
Why Rachel Taylor Brown isn't topping the Billboard charts is one of those mysteries that will remain unsolved. Maybe she should kick that guy from Coldplay in the nuts and gain some notoriety, but that would be pandering, and, besides, her songs are most likely too sophisticated for vapid waste of soulless pop music. Come to think of it, she's probably better off in her private enclave in the Pacific Northwest with her family and friends, away from the circus of the spotlight. As long as there are instruments and a recording studio nearby, she'll be fine.