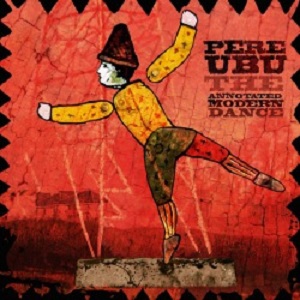 16 August 2010
Shit flows downhill. Between Lebron James leaving town, the Indians sucking it up and the alleged football team known as the Browns, Cleveland is in the valley. Deep in the valley. Pere Ubu was formed during the malaise of the mid 70's in Cleveland, when inflation was high, the rust belt was getting rustier and Lake Erie and the Cuyahoga River were notorious for pollution.
Everything old is new again and we've got rampant job loss and a major body of water full of petroleum. Hey, we're all in the valley now!
What better time for Pere Ubu to release The Annotated Modern Dance. This album, a recording of a live show from earlier this year shows David Thomas and his cohorts to be alive and well. The entire song cycle from The Modern Dance is included, as well as classic early singles such as "30 Seconds Over Tokyo", "Heaven", "Heart Of Darkness" and others.
Originally launched in Cleveland in 1975, Pere Ubu rose out of the ashes of the seminal Rocket From The Tombs. Part of Rocket From the Tombs became the Dead Boys, while vocalist David Thomas and guitar player Peter Laughner started up Ubu along with with guitarist Tom Herman, bass guitarist Tim Wright, drummer Scott Krauss and synthesist Allen Ravenstine.
Legend has it that Pere Ubu was going to be a temporary project, releasing only a couple of singles. Their work went far beyond that. The Modern Dance, and their classic Dub Housing became must have albums for anyone into noise punk. The band has been around off and on ever since, with Thomas being the only constant member.
Pere Ubu had been described as "avant garde", "industrial", "absurdist", "expressionist" and most horrifyingly of all, "arty". Pere Ubu coined themselves "avante-garage"- which Thomas explained as "a joke invented to have something to give journalists when they yelp for a neat sound bite or pigeonhole".
I prefer the terms "experimental" and "non-linear" as demonstrated through the sounds of broken glass in their live take on "Sentimental Journey" or David Thomas' yowl (does Black Francis pay him royalties?) upsetting the apple cart on "Street Waves".
It's difficult music to groove to. Unlike more conventional late 70's American "Punk" bands such as The Ramones, Blondie, or even Talking Heads, Pere Ubu was never willing to let the beat of the song or the rhythm transport the listener. While the sonic landscape could be hypnotic (as in "Heart Of Darkness"), the band would never be content with it. Instead, whether by Thomas' "singing", Ravenstine's textures or the more conventional instruments, something would drive the song towards unexpected and dissonant lands. Their very first song on Modern Dance ("Nonalignment Pact") opens with feedback blending into white noise into a conventional rocker into vox and back again.
The line-up on The Annotated Modern Dance is David Thomas on vocals; Tom Herman on guitar; Robert Wheeler on EML synthesizer; Michele Temple on bass, and Steve Mehlman on drums.
As a bass player, I am focusing on Michele Temple pretty much as I listen to this album. The juicy tone she gets is similar to one of my favorite bass players, Paul Gray (formerly of The Damned).
The benefit of 30 plus years of additional mental damage and the raw, live sound (which improves on the studio feel of the original) of The Annotated Modern Dance make it indispensable for fans of Pere Ubu as well as all who love noise and dissonance.
comments powered by