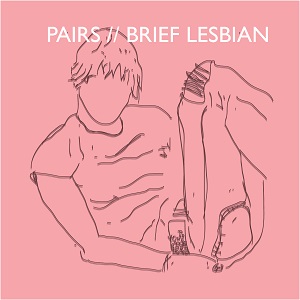 28 May 2014
In anticipation of their planned demise, Pairs teams up with fellow Shanghai ex-pat Adam McRae, aka Reykjavictim, for a second-to-last recording that finds the expanded duo building off the electronic experimentation of Your Feet Touch Ground, A Carousel and heading deep into psychedelic territory.
Brief Lesbian is a sprawling epic of hypnotic beats and repetition. "I Used to Find a Girl Who Is Engaged to a Creationist Attractive Until I Found Out She Is Engaged to a Creationist" opens with syncopated drums and a soothing synth, the perfect setup for the primal scream that emanates from drummer/vocalist Xiao Zhong when the song truly begins. As Xiao Zhong rants in his signature vitriol, F.'s guitar washes in spacious, heady chords, until the middle, when things turn a bit new wave-y, building to an effects-laden, noisy finish. The 13-minute ballad, "Bloodshot," recalls Bardo Pond's more reflective moods, while "Robert's Cutting Laps Out Front of Roundabout Video Again" evokes melodic fuzziness with McRae's vocals baring a hint of Chris Brokaw's sneering monotone. "Leipzig Will Have His Revenge on Seattle" sees the group in a Can groove, "I'm Sorry to Hear Your Partner Wears a Hat Inside" strives to be a new wave sing-along and "Stickers On Their Chest" sounds like Spacemen 3 as a surf band. It all culminates with the Red Crayola-like orgy of "Hurry The Thought," the final statement of this mutant version of Pairs that existed just this once.
As the band comes to an end, it's saddening to hear how far they've evolved and know that time is almost up, though there's something to be said for quitting while you're ahead as well – just ask Vince Gilligan of Breaking Bad. Bands typically don't last forever, and the ones that do probably should have stopped decades ago. Well, here's to Pairs and their brilliant legacy of music. See you at the end.