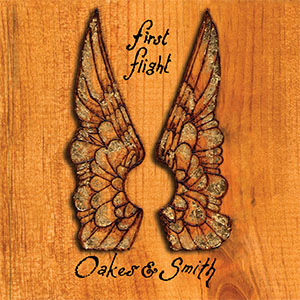 23 January 2014
With groups She & Him now straddling that middle ground between commercial and indie, duos have become a popular phenomenon in pop music, so much so it can be difficult to sift the good from the band. However, Oakes & Smiths definitely seem to be making a name for themselves with their unique brand of finely polished folk. The duo of Robert Oakes and Katherine Smith are releasing their new album First Flight, with influences of 60s and 70s folk icons like Paul Simon and Cat Stevens clearly shining through.
Oakes & Smith remind me of a somewhat well-known quote from Kurt Cobain on the Vaselines, "I just have this feeling Eugene and Frances had a really cool relationship. I don't know if that's true or not, but I think it's a really amazing thing when a couple can get on together and write some of the most beautiful songs I've ever heard. They're kind of sharing their life with people." Of course, as Cobain realized, it doesn't matter if they're a couple or not, but that a simple duo can have just a great chemistry between each other and that it shows in their music is a rare thing.
Make no mistake, they are definitely a folk group, but the production here is fantastic, detailed, and of high quality. With a revolving door of musicians and carefully chosen instrumentation on this record, this extra sonic quality fits in perfectly with the preexisting chemistry between Oakes & Smith. Most of the vocal duty is shared between the two of them, with a slight lean towards Smith leaving Oakes to handle more of the instrumental side.
Nothing here rocks the boat too violently. Instead, they choose a gentle, more introspective route here on beautiful, meandering songs like "Before Dawn." However, when the tempo is turned up slightly, as on the fantastic cover of the standard "The Wayfaring Stranger", the results are just as consistent. There are a million folk bands out there today, but few as interesting as Oakes & Smith. Unafraid to do their own thing, or even add influences from other genres, Oakes & Smith have created a fine album with First Flight.
comments powered by