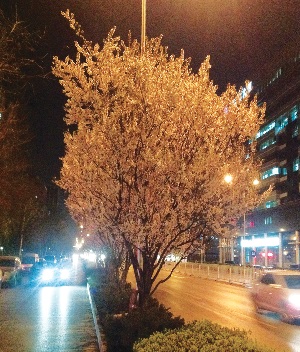 29 May 2014
Though most of China's underground music seems to come from Shanghai, the country's capital, Beijing, has its own burgeoning scene. Now, two of the city's foremost experimental electronic musicians come together for a second split release.
Peak of the Moon is an ethereal collection of soundscapes focused on phases of the moon. Though the two artists are quite different from each other, their varying styles complement each other perfectly. Noise Arcade begins the split with four tracks of fuzzy, pulsing, Eastern-influenced ambiance recalling Turkey's Ekin Fil and even Klaus Schulze's early experimental recordings. Tone patterns dance in circles, allowing beats to subtly creep in and build to dramatic crescendos before receding into the next phase. thruoutin, on the other hand, takes an electro-acoustic approach, mixing found sound with Chinese lute and sparse vocals to create eerie tracks somewhere between early Merzbow and Conscious Summary with elements of English experimentalists John Cohen, Martin Jenkins and Kemper Norton. The resulting compositions come across as signals from space received on an interstellar radio that can't stay tuned to one channel.
China keeps producing excellent artists ranging from punk rock to indie pop and now experimental music. It's only a matter of time before the rest of the world catches on and recognizes the genius emanating from the world's most populous country.